Dauntless Arrives on PS4, Xbox One and Epic Games Store in May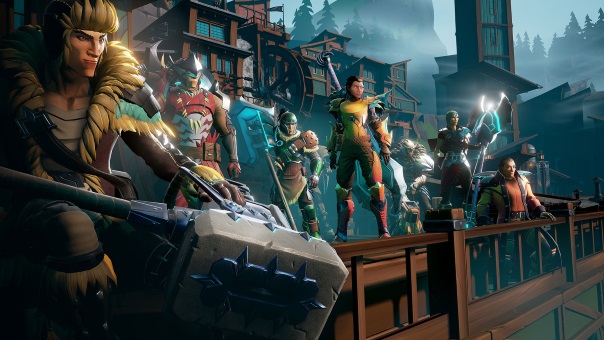 Phoenix Labs made a huge announcement today regarding the console/Epic Games Store release of Dauntless. Dauntless will arrive on the Playstation 4, Xbox One, and PC via Epic Games Store on May 21st, 2019. To celebrate this, a new Hunt Pass season will arrive on the Shattered Isles: Season 5: Hidden Blades. This will bring the Moon Blossom Festival to life and offer thematic gear to flaunt their inner ninja. This Hunt Pass will have 50 levels of content across the basic and Elite tracks as always, with cosmetic rewards, and premium currency.
Along with this will also be new improvements and content updates that recently arrived in the PC Open Beta. The Mastery System brings a new way for Slayers to hone their skills, earn experience, and unlock achievements. This also comes with new rewards to gain. Each Behemoth and Weapon has a mastery Card for players to explore. There is also the campaign rework to look forward to. This includes everything from questing and crafting, to meeting other Slayers and hunting Behemoths. The "End of Hunt" screen also received a rework, giving far more information to Slayers. This includes progress made in the Mastery cards, quest rewards, and much more.
New players who've yet to experience Dauntless can kickstart their Slayer journey with the new Arcslayer Pack, which introduces a brand new mech-inspired armor set and includes premium currency and a number of consumables. This also marks the last chance for current PC Open Beta players to pick up the Ramsguard set before it is locked away in the vault.
Gloria Victis recently received its 155th update since Steam Early Access began, which adds Christmas content.
by Ragachak
Rather than closing the game, Sony Online Entertainment LLC (SOE) has found a new home for the strategy game Pox Nora with Desert Owl Games, a...
by Mikedot
Inferno Legend announces the new release of its Dark Tournament PvP feature.
by MissyS