DARK ECLIPSE: First PlayStation VR MOBA Announces Launch Date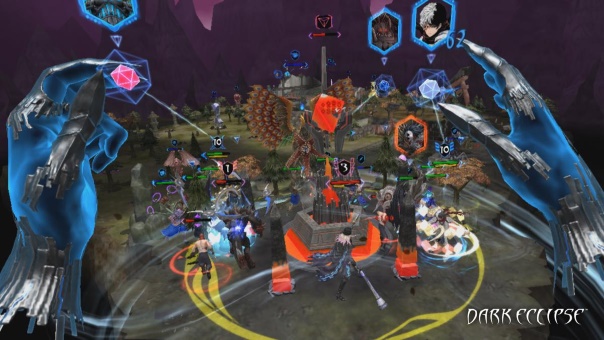 SUNSOFT has announced that DARK ECLIPSE, its VR-designed MOBA, will launch globally on September 25, 2018 for PlayStation VR.
DARK ECLIPSE aims to balance core MOBA elements with the unique aspects of virtual reality. Designed as a 1v1 experience, players can choose three Leaders from a roster of 15 to attempt to overcome the enemy's team. They are assisted by Soldiers, minions that can be given orders, and Towers, which can be built on the field where the player chooses and offer a variety of effects. Players can pick up and move their units directly in a unique drag-and-drop mechanic, and have full visual access to the battlefield at all times.
Shohei Sakakibara, Producer and Project Leader at SUNSOFT, said in a press release:
With 40-years in the business, we've seen many gaming trends come and go, but few have been as exhilarating as VR's expansion and mainstream acceptance. Everyone at SUNSOFT is enamored with this type of quick, strategic, multiplayer gameplay, so we brought our passion for the genre and combined the best characteristics of VR, MOBAs and RTS games into DARK ECLIPSE, a game that's both familiar and eye-catchingly innovative.
DARK ECLIPSE will be free-to-play, with regular free updates that focus on game balance and introducing new Leaders.
SG Interactive has revealed new content and events for players of Trickster Online and Grand Chase.
by MissyS
The legendary developer of titles such as Thief, System Shock and the original Underworld Ultima games announces a Kickstarter campaign for Un...
by Mikedot