Cyber Hunter Launches on Mobile Devices from NetEase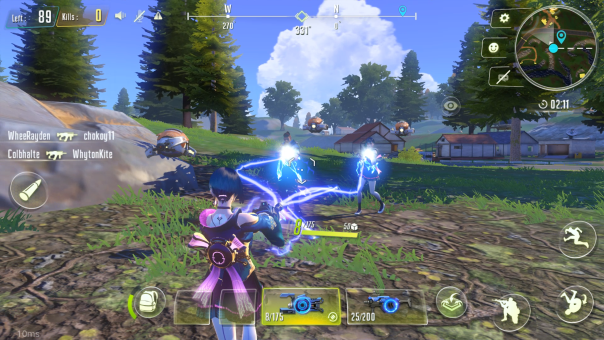 NetEase launched their latest battle royale title for iOS and Android today, by the name of Cyber Hunter. In Cyber Hunter, players (known as Wanderers) drop into a six-by-six square kilometer map and scavenge for weapons and vehicles, as well as wacky items and upgrades. Players can climb, swim and explore within the designated safe zone, and take out their foes one by one to see who the last player standing is. All vertical surfaces are climbable in Cyber Hunter, so players can scale anything they can see, offering an exciting parkour experience. Players can also level-up their parkour skills with items (tactical gloves) to improve their climbing speed.
As these Wanderers level up, they also acquire unique superpowers, such as the ability to detect enemy signals, become invisible or build barricades. They can also deconstruct buildings or items to gain droid energy. Wanderers can also use a Detector drone to spy on enemies. There are five types of weapons to use as well – SMG, Rifle, Sniper Rifle, Shotgun, and Throwable Weapons, so players can find the attack style that suits them, and customize the upgrades for it. If that's not enough, there are vehicles that range from one to five-seaters, and some of them can do amazing things. The Cerberus, as an example, can turn into a Battle mEcha, and the Windrider can transform into a plane.
In addition to these gameplay features, players can also look forward to the game's original soundtrack composed by famed composers Keiichi Okabe and Ryuichi Takada who worked
to create a futuristic and exciting atmosphere. Keiichi Okabe is best known for creating the theme music in the anime series Yuki Yuna is a Hero and the games Drakengard 3, Nier: Automata, and the PC game Fate/EXTELLA from the Fate series. Ryuichi Takada's credits include the theme music in the TEKKEN game series and the game Fate/EXTELLA LINK.
Next Article
Heroes® of Might & Magic® III – HD Edition will be available digitally on Windows® PC and for the first time on tablet (iOS and Andro...
by MissyS
En Masse Entertainment, a player driven publisher focused on delivering great games and exceptional service, is excited to announce first deta...
by Mikedot