Cute Themed MMORPGs Everywhere!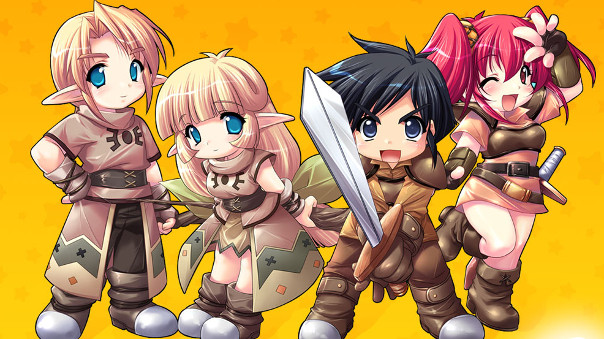 Practically half of all free to play MMORPGs these days are 'cute' themed to a degree. Games like Luna Online and Cloud Nine brand themselves as 'cute MMORPGs', but even games like Ragnarok Online and Fiesta Online feature adorable slimes and other cute critters. There's nothing wrong with cute themed games, but I feel that a lot of these games are taking the whole kawaii thing a bit far to the point that it's getting a bit weird. Luna Online for example  has cartoony slimes in the game which say things like, "I think I'm the cutest slime!" and  ask, "Am I cute?" while players run them through mercilessly with their swords to complete a 'Kill 10 slimes' type quest.  Come on! It's weird, admit it! My  biggest gripe with cute themed games though is that there are already too many of them. Developers should focus on releasing genuinely 'different' games as I'm sure gamers are getting a bit tired of playing the same kinds of games, especially when they look the same as well as have the same gameplay mechanics.

The graphics in most MMORPGs these days are either '3D Anime / Cute', '3D Realistic' or '2D Side Scrolling'. Games like Rose Online and Luna Online make up the 3D Anime / Cute category, Karos Online and Shaiya are examples of '3D Realistic' and lastly Wind Slayer and MapleStory like games make up the '2D Side Scrolling' category. I'd like to see some MMORPGs try something a bit different. NeoSteam for example, although another '3D Fantasy MMORPG' is a bit unique because it's set in a 'steam punk' world. Heck, even World of Warcraft clones like Runes of Magic and Gates of Andaron are a tad unique because they have a 'Western cartoony' art-style. I'm just a bit tired of seeing the same ol' recycled 'art style' being used over and over again. It's gotten so ridiculous that the graphics in games like Grand Fantasia, Cloud Nine and Bright Shadow are practically interchangeable. In any other gaming market this wouldn't big a big deal, but in the 'MMORPG" industry it's a big deal because gameplay wise these games are all virtually identical, with only a few distinctly different features.

Anyway, I'm getting a bid side tracked – this article is about cute themed MMORPGs and I should end it with a very 'cute' promotional music video for a very cute MMORPG – Luna Online.



By, Michael K.
Next Article
The latest addition to the popular Game321.com portal, Rainbow Saga is an arcade-style 2D fantasy browser-based game packed with anime-style c...
by Mikedot
The fourth annual Point Blank International championship will be hosted from September 27-28, 2014 in Istanbul, Turkey.
by MissyS
R2Games has released a fourth playable class for Blade Hunter, the free to play beat 'em up action browser MMORPG.
by MissyS