Crossout's 'Knight Riders' Event Has Begun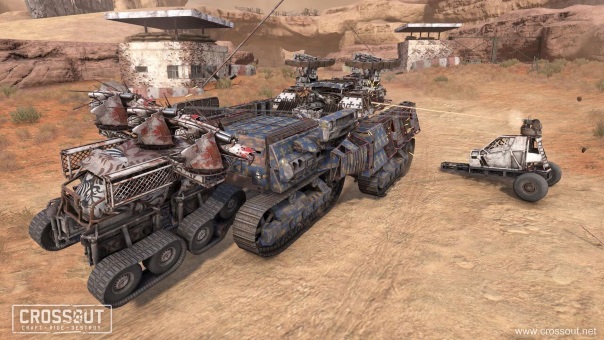 Gaijin Entertainment launched their limited-time 'Knight Riders' event in Crossout, which lasts from September 20th until October 9th. During this time, the Knechte Faction has rolled into the wasteland, and with them come high-tech parts and new weapons for your vehicles. One of the most exciting parts brought by the knights is the coupling module "Contact 2M".
This device lets players attach vehicles to each other. If you always wanted to modify the weapons and systems on your car but lacked energy or engine power – share this duty with your teammates! One vehicle can carry long-range guns, another one can take middle range weapons, and they can connect to a third one, which will provide them with the necessary speed and defense in close combat, with chainsaws and flamethrowers. In order to craft the Knights items below, the player needs a special workbench, which can be rented with 'talers'. These coins can be earned in the 'Knights of the Wasteland' PvP mission. The reward depends on the effectiveness of the player during a battle.
In the Knight's shop players can also find:
200-kilos revolver "Corvo", who's last shot deals triple damage.

Plasma emitter "Helios", that gives additional damage if all the shells within the same burst hit one target.

Shotgun "Nidhogg", which gets more power, depending on the speed of the vehicle. The faster it goes, the more hurtful it be for the enemies.

Radar "Oculus VI", will warn the player about the enemies that can't be seen. The sensor turns toward the hidden enemy, flashes and beeps. With this invention, nobody can take you by surprise!
Next Article
CrossFire 2.0, the biggest update for CrossFire North America to date, is now live.
by MissyS
The exciting anime by Kodansha/Hiro Mashima, Fairy Tale is coming to the exciting world of gumi's Brave Frontier in a collaboration!
by Ragachak
NCSoft and Carbine Studios has just released their latest update for their Sci-Fi/Fantasy MMORPG Wildstar called "The Mystery of Genesis ...
by Mikedot