Crossout Celebrates Its One-Year Anniversary in Open Beta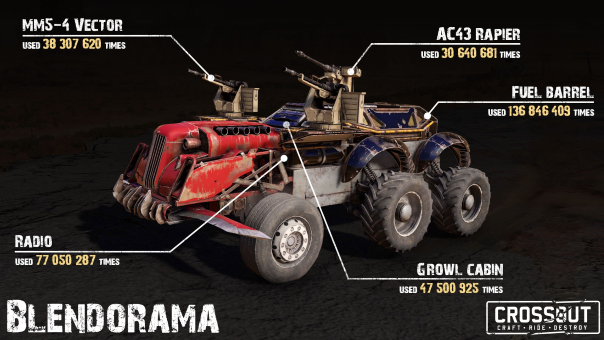 The post-apocalyptic vehicle game from Gaijin Entertainment/Targem Games, Crossout, is officially celebrating its one-year anniversary in Open Beta. From May 31 through June 7, all players who log into Crossout will receive a mountable fireworks launcher and any player who wins multiple battles can earn other exclusives. Since launch in 2017, they have added three new factions, hundreds of parts, mountains of weapons, eight new locations, and 12 new gameplay modes, including the new "Battle Royale" mode. There have been an incredible amount of custom vehicles made, from trikes to gunships, and Crossout has crafted a new vehicle, using only the most popular parts. It has been dubbed, "Blendorama".
The Blendorama possesses two of the most popular in-game weapons, the 'MM5-4 Vector' machine gun and the 'AC43 Rapier' automatic cannon. On the battlefield, players have preferred vehicles that possess a combination of speed and maneuverability, and so lightweight cabins that offer plenty of energy for weapons without slowing down their vehicle are very popular. The most popular lightweight cabin has been the 'Growl' cabin, used together with wheels as the favorite choice for propulsion. Year two for Crossout will have even more game modes, story missions and tons more parts and weapons to create your dream machine.
Two new features arrived on Netmarble's Iron Throne today that expand Alliance and Kingdom Battle features.
by Ragachak
Perihelion Interactive has announced that it will be bringing its ground-breaking sci-fi RPG The Mandate to Gamescom, August 5-9 2015.
by MissyS
Forsaken World's Frostgale Fjord Battlefield is up and running and In the addition to the 12v12 Battlefield, the update includes expanded...
by JamesBl0nde