Crossout Adds Battle Royale Mode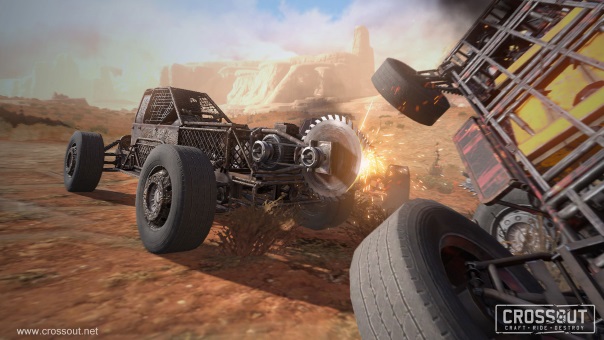 A new PvP mode is being introduced to Crossout by Gaijin Entertainment, called "Battle Royale". 32 players will duke it out in the new Blood Rocks map, which is the largest Crossout location yet. Players will search for weapons and equipment to improve their starting vehicle with. The last man standing will be the winner. At the beginning of battle, all players are facing the same starting conditions. Driving only a light buggy without any weapons or equipment, they have to search the battlefield for useful items such as chainsaws, rocket launchers, cloaking devices and more. As soon as an item is picked up, it is attached to the own vehicle immediately, which can support up to two firearms, one melee weapon and one auxiliary module in total. Installed modules can be swapped at any time for the many other items that can be found through the battle.
The special "buggie" used in this mode come with an extra sturdy frame, meaning players won't be able to shoot off the wheels, as is standard in Crossout battles. To neutralize players in this mode, the entire vehicle has to be destroyed. Extra supplies can also be found around the map, including additional ammo, as well as repair kits to restore a vehicle to fighting strength. The new map, 'Blood Rocks', is the largest playable location in Crossout to date and is 16 times larger than the average PvP map available in game. It features networks of caves, large areas with ruined buildings and other constructions of the old world, offering an abundance of shelters to hide in – but only for a very short time. Creeping ever closer over the horizon is a massive sandstorm, which constantly decreases the playable area. Any vehicle caught in its ravenous maw will be turned into shreds in mere seconds, and its unpredictable movement means that you never know which area of the map will be affected last.
SkyForge uses a limited action set control scheme similar to games like Guild Wars 2 or Wildstar: WASD for movement, LMB/RMB for basics...
by Mikedot
Jurassic World: The Game is a free-to-play simulation-strategy game for both the iOS and Android.
by Ojogo