City of Titans Shows Off Development Roadmap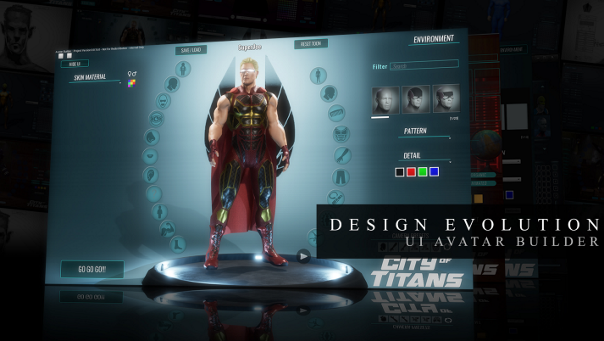 City of Titans from Missing Worlds Media is a Superhero MMO that is presently in development. Developers have a varied and sometimes confusing definition of what an Alpha or Beta is. This is especially true in an era when many games spend months or longer in the "Open Beta" phase. Missing Worlds Media offered these development phases mean for them, so there is clarification.
Alpha means that not all major systems are up and running yet. There are gaps in the foundation, parts of the game that have not even been implemented. Beta, on the other hand, means that all major systems are in place but are unfinished or plagued by major bugs. This ranges from early Beta, where the bugs are rampant and highly disruptive, to late Beta, when the game has nearly reached a launchable state.The exact location of the line between Beta and release has become a matter of the studio's tastes, preferences, and need to pay the repo man.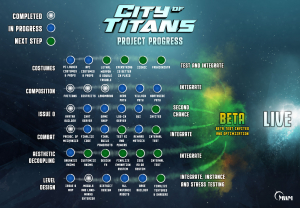 City of Titans is using a graphic chart to highlight what is ready for testing and what still needs work, which you can see above. This is also being used to track the progress of individual components of the game, that might get released separately (such as the Avatar Builder). The completed (White Dots) is ready for testing and are functional. Blue Dots are "In Progress", and are the next parts of the game being worked on. Green Dots are "Next Step", elements that are still in the early part of development, or need something else before they can move forward. Of course, each of these stages has its own individual steps, depending on what function it is. The Avatar Builder has its own steps and can be rolled out independently, prior to the rest of the game. they went on to say the current build is more like a Mid-Beta, with significant bugs to fix, but is continuing to grow. The above image will of course be updated as time goes on, and you can learn more in the link below.
Next Article
Curse Inc., a leading video game media and technology company, has announced the next generation in gaming communication with Curse Voice.
by Mikedot
Phoenix Labs has announced details on how players will be able to manage their Dauntless account through the Epic Games store patcher.
by MissyS