City of Titans Avatar Builder Available to Backers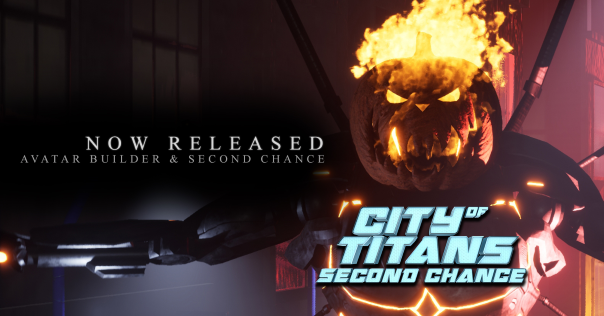 If you've been watching the City of Titans Twitter, you may have noticed that for the last seven days there has been a simple numerical countdown ticking away. Well, today is Day Zero, and the big announcement is that the City of Titan's alpha build of their avatar builder is now available to the backers. In addition to this, the second chance funding campaign is now up, as well as the Titan Shop/online store going live at 8pm Central on October, 24th 2019.
The announcement being the avatar builder being available to select public shouldn't come as too much of a surprise given that City of Titan's lead Chris "Warcabbit" Hare was at New York Comic-Con a few weeks ago showing off the avatar builder. Still, considering this is our first chance to get our hands on any sort of progress for the game, it's a pretty exciting day.
I was lucky enough to get an early copy of the avatar builder and play around with it for a couple of days before the announcement (Thanks Chris!), and I've got to say, I'm loving the potential I'm seeing here. Even with the limited options we're seeing as far as individual costume pieces, we're seeing a huge variety of textures available for those pieces. The texture really is fascinating to zoom in close and look at, as you can see the patterns of individual fibers woven into the materials.

In addition to the fabric textures, there is also a decent selection of actual skin types if you want to make something other than homo sapien. There are rock and stone skins, chrome, aluminum, and metal skins, shiny skins, and two different android type skins, and others, and that's just so far. Each skin type also has a selection of colors available. I'm really hoping that, eventually, they switch to a color palette type selection tool, but we'll see where that goes. Even with where it's at, it's pretty extensive.
The other thing that I really appreciate about this avatar creator is that you're not limited to a few narrow selections of body types. In fact, there are sliders for all sorts of different portions of the body. You can even * gasp* make fat people! I was working on making a Wilson Fisk type character, just for fun, but there was a lack of any sort of suit costume at this stage, and it didn't feel quite right to put Wilson Fisk in a tank top or spandex. But here's an example of a heavier set character: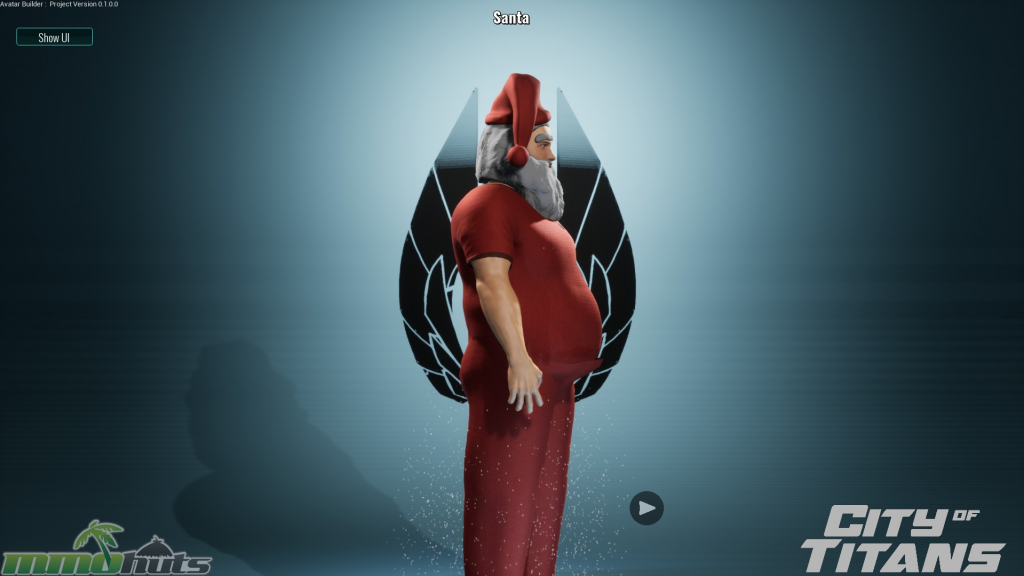 Aside from costume and skin selections, which have so many options it really isn't practical for me to try to explain or define them all, there are also a number of stances you can choose for your character. Whether just a neutral stance, or a martial arts "dragon style" stance, or even someone who floats just above the ground similar to Vision or Iron Man, you can select a stance that helps to embody who your character is.
Yes, things are in an early phase yet for the avatar builder, but it's very exciting to see visceral progress on the City of Heroes' spiritual successor that I've been the most excited for personally. The fact that after you design a character you can actually run around a little island with it? That's just icing on the cake.
City of Titans Avatar Builder
The first image is just to show you the detail of the skin, while the final one is something that I made. The rest are pre-saved avatars to give you an idea what the avatar builder can do in its current state.
Anyone who played City of Heroes, or even Champions Online, will tell you that any good superhero game requires an avatar builder that you can spend hours and hours on to be totally satisfied, and City of Titans has shown that they intend to deliver on that foundation. I can't wait to see more! For more information on the avatar builder, second chance campaign, or the Titan Store, check out over here. Finally, join their new public Discord!
Next Article
Spooky events lined up for Gamigo's Fiesta Online and King of Kings 3.
by MissyS
My.com releases Iron Desert – a cross-platform tactical combat game that drops players in the midst of a brutal war to dominate the desert.
by MissyS
Netmarble is delighted to announce its first global PC game, Hounds: The Last Hope is coming to Europe on April 2nd.
by Mikedot