Can You Make Real Money Gambling in MMOs?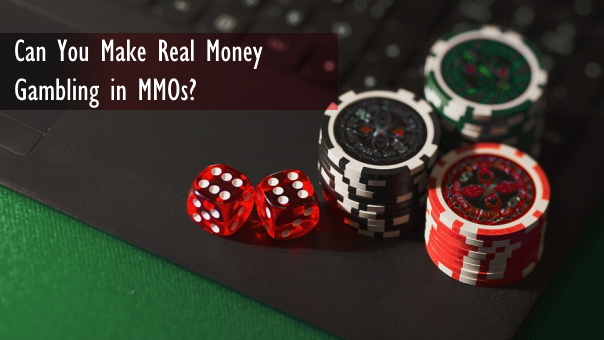 There is an overlap growing between video games and MMOs. It may make you wonder whether it is possible to make real money playing casino games in MMOs. The short answer to that question is "sometimes."
In this post, we will go over a couple of examples of gambling in MMOs. You will find that while there are some limited opportunities, joining an online casino featuring real money online slots and table games is a better option if you are hoping to receive real-world payouts.
GTA Online Diamond Casino & Resort: No
If you play Grand Theft Auto Online, you can gamble at a virtual casino called the Diamond Casino & Resort. The stakes are very real with this casino. While you gamble with in-game currency, you can purchase that currency using real money. That means you are basically wagering real funds.
But that does not mean you can make real money gambling at GTA Online's casino. The payouts you receive will take the form of in-game currency and prizes, not real cash. You must use them in-game as well (you cannot just convert them to USD). So it only makes sense to gamble at the Diamond Casino if you value the in-game rewards you will receive if you win.
Second Life: Yes
Second Life is a more viable option for gambling for real money in an MMO. There used to be casinos in this game offering a wide selection of chance-based games. Alas, Linden Lab eventually put a stop to this practice. Nevertheless, they do continue to approve of certain "skill games."
It is possible not only to exchange US Dollars for Linden Dollars, but also Linden Dollars for US Dollars. While there are some limitations on converting back to USD, you should be able to do so with money you receive in-game (rather than in-game money you purchase with USD). That means that if you play skill games in Second Life, you should be able to convert the payouts you receive in Linden Dollars to real US Dollars to cash out.
Other MMO Alternatives
All of that said, it is a pretty convoluted way to gamble online for real money. Are there other MMOs that feature gambling beyond GTA Online and Second Life? There are a few out there, but these two are by far the most prominent.
There are better alternatives that do not require you to do currency conversions, and which entail a larger selection of games to enjoy. Below, we tell you the best way to gamble online for cash at this time.
How to Gamble Online for Real Money
The online gambling industry has been growing for years, particularly since the pandemic. That means that you now have more options than ever before when it comes to signing up at real online casino sites. These sites are operating with greater transparency and regulation than they did in the past. They also are swiftly expanding their game selections to include a tremendous variety of slots and table games. In short, there has never been a better time than the present to jump into the fun.
Getting started with gambling online for real money on these websites is a lot simpler than trying to do it in MMOs. First, you just need to choose a trusted online casino with an established reputation. Then, you need to choose a transfer method and make a deposit. Online casinos accept major currencies like US Dollars and Euros, so you probably can gamble in your native currency.
You will likely have the chance to claim a large welcome bonus when you make your deposit. Online casinos usually operate VIP programs as well. Check if your membership is automatic or if you need to apply. Also keep your eye on the promotions page to see what kinds of weekly and special promotions are up for grabs.
Once the first transfer of funds to your account is complete, you will be able to start playing casino games for real money right away. You should be able to play in a web browser on your laptop, desktop, or mobile device. Some online casinos do have downloadable software as well, but most are browser-based these days.
When you are ready to cash out, the process is quick and easy—not complicated like it can be on Second Life. You just head to the banking page of the online casino site and make a withdrawal request. The transfer time and fee will depend on the method you choose, but you should soon have your cash in your e-wallet or bank account. Have fun gambling for real money at online casinos.
Next Article
It wouldn't be Halloween without World of Tanks "Monster Tanks" event, and it's coming to PS4 and Xbox One's World of...
by Ragachak
Frontier Developments plc (AIM: FDEV) has released the first phase of the Beta development process of its forthcoming space epic Elite: Danger...
by Mikedot