Brave Frontier Teams Up With 'King of Fighters' This Spring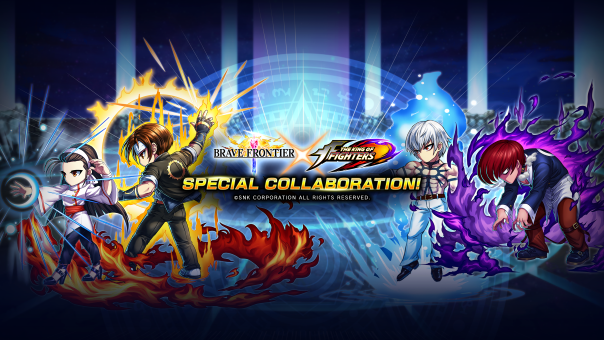 The King of Fighters franchise is coming back to Brave Frontier by gumi this Spring, and with it comes four new characters! This event starts tomorrow (April 24th) and runs until May 22nd, and players can acquire some old favorites, as well as the four new units. This collaboration also introduces a new dungeon mechanic, with The King of Fighters Arena. Players can select a variety of paths as they work their way through the dungeon against the best fighters. This will help them unlock The King of Fighters Sphere, Gems, and other Materials. In addition, there's 21 days of rewards in the Login and Milestone Campaigns.
4 New THE KING OF FIGHTERS Units
Chizuru Kagura – One of the scions of the three families that had sealed the creature known as Orochi, Chizuru Kagura was a priestess, a martial artist, and an accomplished woman in her own right.
Orochi – A powerful avatar of nature personified. Orochi began to spread its dark influence around the world to eradicate mankind from the world but was sealed away by three families after a mighty battle.
Orochi Iori – A strong warrior with no recollection of himself. The only thing he could remember was his desire for blood. Death! Massacre! These were the words whispered constantly in his mind. With a strange power running through his veins, his body moved with grace and ease, as if he had done it a million times before.
Kyo Kusanagi – A carefree fighter with the power to manipulate fire, Kyo Kusanagi was the scion of one of the three families that had sealed away the creature known as Orochi.
Returning Fighters of the Previous THE KING OF FIGHTERS
Players will have the opportunity to acquire popular THE KING OF FIGHTERS characters from the previous collaboration: Terry Bogard, Iori Yagami, Omega Rugal, Benimaru Nikaido, Kula Diamond, Athena Asamiya, Mai Shiranui, and Leona.
Next Article
KOG Games recently sat down to answer some of the Elsword community's most pointed questions and share some exciting stuff on the horizon.
by MissyS
Jagex has unveiled the newest server for War of Legends: Praying Mantis.
by MissyS