Brave Frontier Goes Plus Ultra with 'My Hero Academia' Collaboration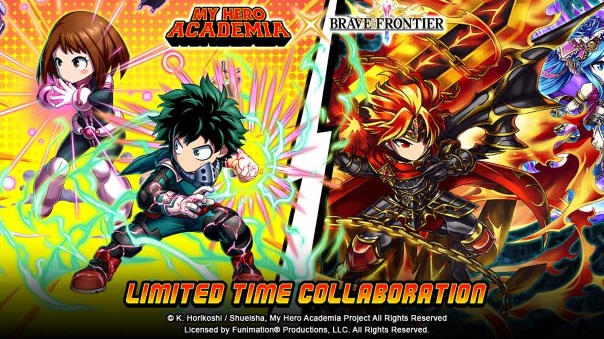 gumi has announced that the award-winning anime My Hero Academia will be joining the cast of Brave Frontier in a collaboration, starting on July 26th. Several Pro-Heroes in Training will be able to join players squads, to achieve their true heroic potential. In addition to having four My Hero Academia characters, there are two events/challenge dungeons coming into the update. "Time for Training!" takes place from July 26th through August 8th, and in it, Izuku and Ochaco have been separated from their friends. Players will acquire Event tokens by completing the dungeon and can exchange them at the bazaar for Izuku's Sphere to boost his abilities and skills. From August 6th through August 19th, players can tackle "Escape Through the Gate!" where Tsuyu and Katsuki prepare for their Final Exam, which is a battle against All Might, with a warm-up spar. Acquire the most powerful Hero, All Might, by completing this Collaboration Challenge Dungeon. In addition, the following characters can be summoned in this collaboration:
Izuku Midoriya
A helpful yet somewhat timid young man, Izuku thought his dreams of becoming a hero were destined for failure after discovering that he was Quirkless. Despite this, he continued to be diligent in his studies in hopes of someday becoming worthy of being called a hero. Soon, he acquired the legendary Quirk One For All.
Ochaco Uraraka
A bubbly, vivacious young lady with an unexpected fierceness when it comes to protecting her friends, Ochaco always tries to see the good in those around her. Her Quirk is Zero Gravity, which allows her to make any object she touches float in mid-air.
Katsuki Bakugo
Arrogant and aggressive, Katsuki is supremely confident in both his martial abilities and his explosive Quirk. Although he is known for being reckless and brash, Katsuki can be surprisingly kind when he wants to be.
Tsuyu Asui
Calm and levelheaded, Tsuyu can be counted on to be straightforward with her opinions no matter the situation. She is very kind and observant, regardless of how people may ostracize her for her odd appearance. With her Quirk Frog, she has shown herself to be a tremendous asset when fighting alongside other heroes.
Next Article
FINAL FANTASY® BRAVE EXVIUS®, the entirely new FINAL FANTASY adventure for mobile devices is now available in the US and worldwide.
by MissyS
Recently, Kickstarter has come under fire for the termination of two employees who were heavily involved with organizing the union.
by NWOrpheus
In response to the sudden delay of the Spirit Tales open beta test, community manager Elliott (Colbeagle) has posted answers to some commonly ...
by MissyS