Brave Frontier Announces Their Fifth Anniversary Extravaganza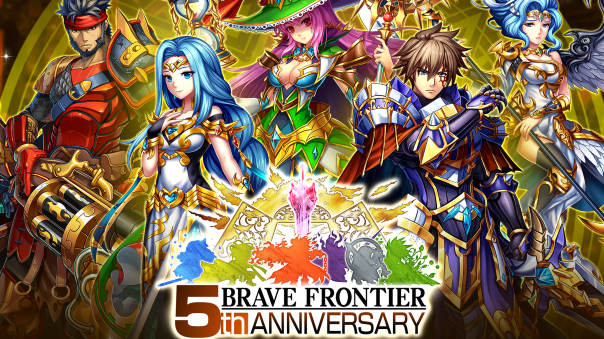 gumi inc is calling all of their Summoners, because Brave Frontier is turning five years old! Brave Frontier is celebrating five years of action, mystery and adventure in the world of Gaia, with a huge celebration. The Brave Frontier Global Team awants to thank their players for the continual support over the years, and hope to continue bringing incredible moments to mobile fans the world over. We have a list of the events planned below.
5th Anniversary Trivia with Rizky and Shaly:
Players can take on Rizky and Shaly's 5th Anniversary Trivia dungeon to put their Brave Frontier knowledge to the test! Fantastic Prizes awaits at the end of this unique Anniversary Exclusive Dungeon!
Jubilee Campaign:
To show our sincere gratitude to players who have been with us since the launch of Brave Frontier, we will be awarding our players with exclusive Anniversary Gifts. Each player will receive different sets of Jubilee Tickets and Jubilee Chests based on their total number of days the player logged in since the beginning of the game until November 27, 2018.
Players will stand the chance to obtain Elementum tomes, Amber Butterflies, elemental shards, and even more fabulous freebies from these Jubilee Chests! Grab this chance to summon powerful units for free at the anniversary exclusive Jubilee Summon Gate!
Unit-of-Choice Campaign:
The popular Unit-of-Choice campaign is back! Log in for a total of 50 Days between 12 Oct to 12 Dec to snag powerful heroes or heroines from the wide world of Gaia for FREE! All units are available for summoning in this campaign except for units from Guild Raid, Vortex Arena, and the Rift.
Anniversary Omni Summon:
All throughout the 5th Anniversary Extravaganza, the Anniversary Omni Summon Gates will be constantly updated with featured units starting with Florence, Serin, and Nia. Find out who else will appear next! Moreover, log in every Friday to receive a free Anniversary ticket! On top of that, tickets will be scattered in the various login campaign gifts during the 5th Anniversary Period.  So seize the opportunity to claim these free goodies!
Gems Heaven:
It's raining Gems! On top of the usual Gem giveaways during our login campaigns, we will shower everyone with Gems for every date that ends with the number 5 during the Anniversary celebration period. Remember to log in during those selected days to claim these free Gems!
No more jumping out of driving vehicles, no more rushing into battles without actually coming up for a strategy.
by Proxzor
Wargaming today announced that Update 1.2 for World of Warplanes is now live in Russia and will be available in Europe and North America on Ma...
by MissyS
Thousands of players have already started the New Years in Luvinia with epic monster battles and glorious achievements. The newly released exp...
by Mikedot