Boxing Star Celebrates the Halloween Season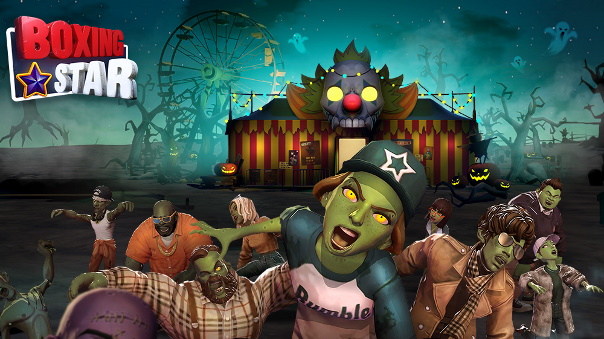 Boxing Star from FourThirtyThree has begun their Halloween themed fun, and also add some new content to the game. The Halloween fun includes a spooky background, new costumes, and several NPCs have become zombies. The "K.O. Mode" also now looks a bit darker, and the NPCs here also have turned into zombies, and behave like the undead. In addition, Boxing Star provides an exclusive Halloween theme background in Super Rich for all players who logged in during the event.
Boxing Star also has two new additions to the game, "Global Achievement" and "Costume Collection System". Global Achievement is a set of missions for all users, and the first player to accomplish these missions will have their nickname engraved on the achievement and unlocks a reward for everyone else. Costume Collection System encourages users to collect costumes and costume points, to unlock character abilities. The abilities include attack power, attack speed, recovery, and more. Users can get more rewards according to the number of costumes collected.
Created by husband and wife team Sandra Powers and Eric Heimburg, Project: Gorgon could very well end up being a sleeper hit.
by NWOrpheus
2018 is definitely the "Year of the Battle Royale". Every company seems to have gotten on the train, and now it's Tencent's turn.
by Ragachak
Celebrate 10 years of La Tale with the Relaunch Festival! Players can travel to the City of Elias and to the Festival Relaunch Tower.
by Ragachak