The Boomsday Project Blasts off in Hearthstone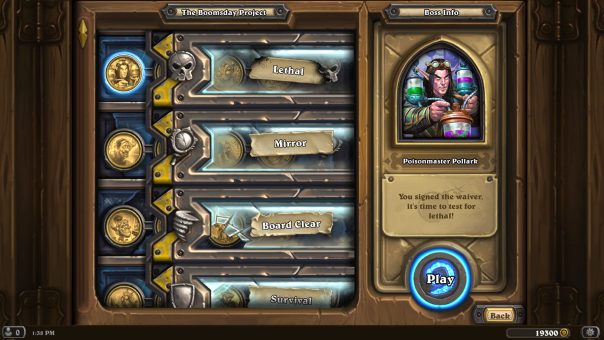 Dr. Boom's secret laboratory is now officially open, and legions of lab coat-clad scientists have funneled in to experiment with the new expansion to Hearthstone, The Boomsday Project. 135 new cards come to the game, and no project is too difficult (or dangerous) for Dr. Boom and his team of scientists, engineers, and researchers. In The Boomsday Project, players will encounter raw, unfiltered science in the form of irresponsibly powerful Omega cards, which become incredibly potent when played at 10 mana crystals. They'll also be inexplicably attracted to the new Magnetic keyword, which allows Mech minions to merge, combining their attack, health, and abilities to form mind-blowing amalgamations of doom. In addition, unwilling participants will be subjected to Projects, maniacal spells that appear to be mutually beneficial to both parties. And players will surely handle the immensely powerful new Legendary Spells, representing the pinnacle of scientific achievement, in a proper and responsible manner. There's also The Puzzle Lab, which is the challenging new single-player Hearthstone experience. In it, players will challenge a series of increasingly difficult puzzles as they attempt desperately to impress Dr. Boom with quick wits and a lack of safety regulations.
The Boomsday Project is available now for Windows® and Mac® PCs; Windows, iOS, and Android™ tablets; and iOS and Android phones. Card packs can be purchased individually or in discounted bundles from the in-game Shop for gold or real-world currency at the same pricing as all other Hearthstone card packs. Players now have the chance to win The Boomsday Project card packs as quest rewards or prizes in the Arena, and can also craft cards from the expansion by using Arcane Dust collected from disenchanting unwanted cards. In addition, for a limited time, players who log in will receive three The Boomsday Project card packs and a free random Legendary class minion or Hero card to celebrate this launch.
"Today, Hearthstone players everywhere can unleash their inner evil genius in The Boomsday Project," said Mike Morhaime, CEO and co-founder of Blizzard Entertainment. "We packed this expansion with all kinds of things that go boom, and we can't wait to see the new strategies that players concoct."
Next Article
Red 5 Studios has announced today that they will host a series of Firefall "Beta Weekends."
by MissyS
Edge Case Games, a new British games studio formed from the team behind Strike Suit Zero, today announced it has launched Fractured Space, its...
by Mikedot
Agents of Yesterday - Artifacts, the latest update for Star Trek Online, is now available.
by MissyS