Bombastic Brothers Launches onto Android Devices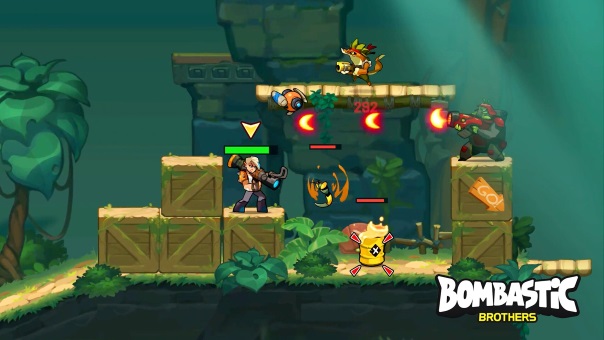 MY.GAMES and Fast Forward Studio have a new title hitting Android today, a run 'n' platformer named Bombastic Brothers. Inspired by 80s games and IPs, Bombastic Brothers aims to release non-stop 2D action. Aliens have invaded Earth, and it's up to our hero Jeff to save the day after his corgi is caught up in the chaos. Jeff isn't alone though – he teams up with an elite squadron, the Bombastic Brothers to get back his dog, and almost as important – to save the world!
Players can experience classic run 'n gun gameplay as they blaze through a huge selection of colorful levels, with 11 different heroes at their disposal and an explosive arsenal primed for combat. By building a base in a massive spaceship, players have access to plenty of futuristic weapons and equipment, and this is also where the various modes for the game are accessed. Whether you're playing against the NPCs, or in heated PVP, there's plenty to experience here. The Android release of Bombastic Brothers also has new content. This includes the mech-wielding hero Tony Jr., new in-game events, a new chapter in the story, and an increased level cap of 60.
Next Article
This weekend, Wild Terra's test server will be open to the public.
by MissyS
Valeera, Shadow of the Uncrowned, joins the Nexus from the Warcraft universe.
by Abubakr
The Clash of Lords 2 team has announced that the release of the game's next update will contain a slew of new features.
by MissyS