Bless Online Brings the Patala Raid and Halloween Events Next Week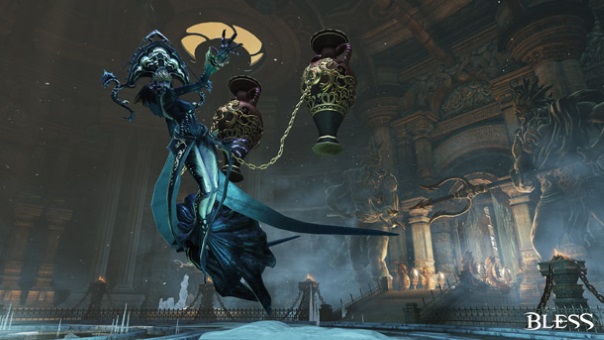 Bless Online announced a new update that is coming next week, and with it comes a new raid, and some fun Halloween-related events. The first part of this update though is the Patala Raid. Up to ten players can tackle this and begins by speaking to Anahrata, the Patala Ruins Seal Guide near the entrance of the ruins. Six bosses await and players must be level 45 to enter, alongside a minimum gear score of 8913. Some incredible rewards can drop in this raid, such as the Sword Body of Flogas (material for enhancing weapons), the Storm weapon series, and new legendary level 45 weapons, Contorted Wings of the Beyond and much.
The October login event will go from October 1st until October 21st, and players who log in for fifteen days will receive 50 sapphires, 350 rose stones, and 230 Beryl.  For logging in and getting an Attendance Check on the other fourteen days, players will be given a variety of rewards including magic pet and mount animas, pet and mount skins, Nutrition Refreshments, a companion skill change token, and more! Further details about the event will be released soon. Then there's the Jack-O'-Lantern Event, where players receive the Memories of the Ghost Festival and collect several themed items, with a reward of the Scary Ghost Festival Set. The Witch Raven event can be found in Skaa Village and has a series of quests with the Witch Raven. The rewards go from 10 Greater Taming Scrolls and a 7-day Creepy Skull Horse Mount. There are other events and treats awaiting, and more details are below.
Next Article
The midnight witch, Charon, is now available to play in Nexon's fantasy MMORPG Vindictus, making her the 22nd hero to enter the game.
by MissyS
A new tech tree hits the closed beta test for World of Warplanes.
by MissyS
Neverwinter: Underdark will launch on Nov. 17 for PC and Xbox One in early 2016.
by MissyS