Blade & Soul May 21st Livestream Facts Recap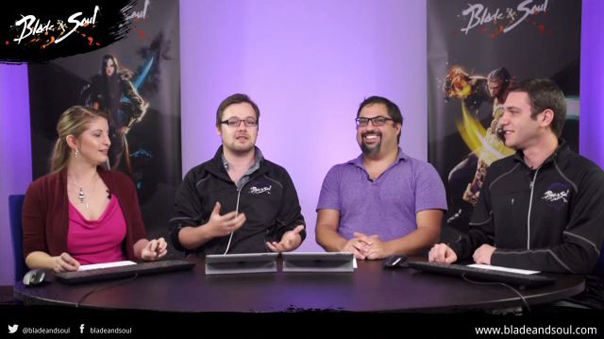 After several years of waiting, NCSoft has finally re-announced that Blade & Soul will be coming to the west (for REALS this time), and they are 100% prepared to bring the hype as they ramp up for the game's closed beta (Fall 2015) and launch this holiday season (Winter 2015/6). To get the hype started, they hosted a livestream session today on Twitch, featuring several producers and community managers working on the game. For those that have been unfortunate enough to miss the livestream that was hosted recently, I have prepared a quick recap of all the important details that were covered during the session.
US/EU version will technically not be "based" on any foreign client. Rather, it will be tailor made for the western audience.
They discussed their plans for localization, which will not be a simple translation of Korean to English. Their plans for localization and "westernization" extends towards gameplay balancing, re-writing story elements in a way that English speakers can understand and more.
Various races that are currently available where shown off, including the Jin, Gon, Lyn and "Yun."
They went on to explain that the Kun race was changed to Yun due to the word Kun being possibly offensive in certain European languages.
Their character creation system was then demonstrated on the stream, and it still holds up as one of the most extensive character creation systems ever seen in an MMORPG. The hosts mention that players have used the character creation tools to re-create various famous people in real life.
The four guardians' announcement trailer was shown off once more (well more than once).
The hosts mention that fans have been expressing their interest for having multiple voice packs available for the US/EU versions. The hosts respond to this by saying that they will consider including extra voice packs into the game as an optional download.
They finally showed off some gameplay, showing off the Qing Gong system as the player performs several movement-based skills including gliding, diving, water walking and more.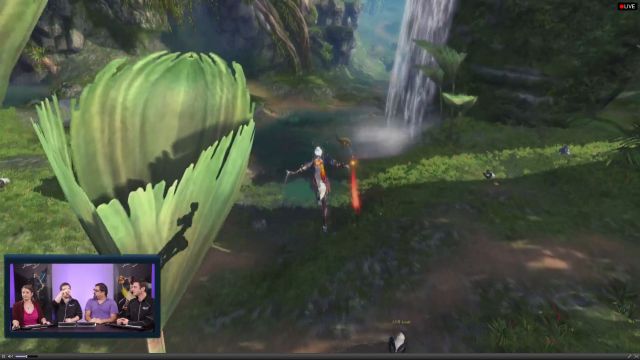 Other forms of Qing Gong movement and transportation were shown off during the stream, including dragon streams.
Live combat was shown off. The hosts then explained that the gameplay structure of Blade & Soul was vastly different than in most MMORPGs, as the game has no dedicated healer class. There will be support abilities across all the available classes, but everyone must do their part to keep themselves alive, as well as defeat the enemies as a group.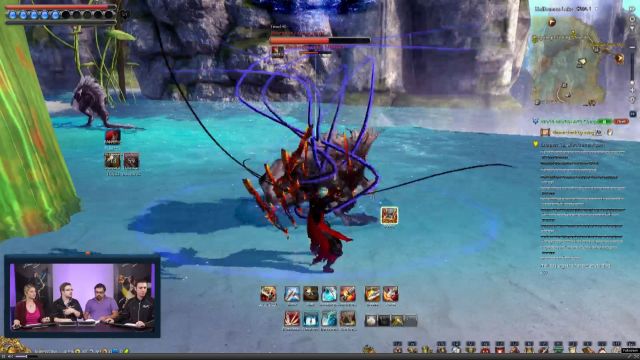 The death and recovery system was shown off, demonstrating that players can revive themselves by mediating whenever they are defeated in battle. Average meditation time takes about 20 seconds and players that are within an enemy's range can be attacked and killed while meditating.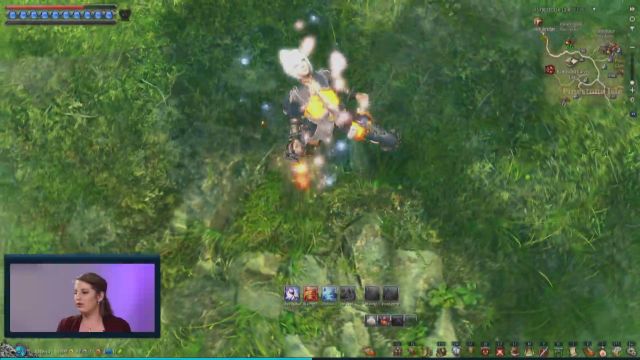 Dungeons locations were also shown off. They expressed heavily that the game will include a cross-server dungeon finder.
Even though Blade & Soul has been released in foreign territories for several years, the hosts mention the reason they've waited so long to release an English version was in order to fix bugs and latency issues. Unlike most other MMORPGs, since the game is already finished, they won't have to worry about content or balance issues.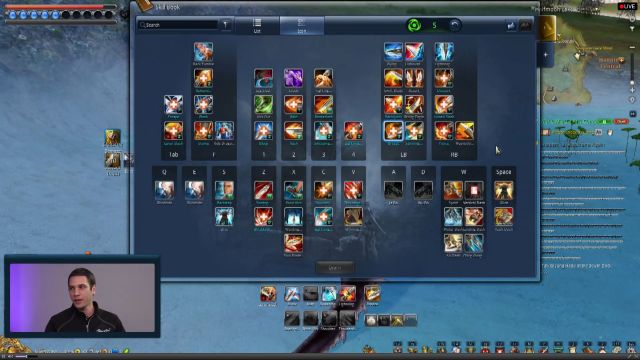 The English version of Blade & Soul will ship with the first three acts of the game, whereas the foreign versions of the game currently have six acts. This is in order to keep the game fresh with new content so that players will not blaze through the story within a week or so.
They also mention that the foreign versions of the game are still being worked on with new content and new story acts. Over five years of story content is currently being planned for the future.
PvP was discussed, expressing that various PvP modes will be available at launch, as well as Doboks (martial arts uniforms) will still work the same as they do in the Korean version. Players will be able to wear certain doboks in order to flag themselves for PvP.
They mention that Blade & Soul has a huge eSports scene in Asia. They hope to see western audiences supporting Blade & Soul's PvP in order to kickstart an eSports scene for the English version.
Itemization was shown off, including refinement and the Soul Shield (Bopae) system. The soul shield will allow players to switch costumes and stats at will, allowing them to wear the outfits they want with the stats they want.
Omeed then expresses his pet peeves in MMORPGs such as weapons and items being expressed as legendary equipment, but only being worth some minor pawn shop quality price when sold to NPCs as a means of preventing inflation. They also mention that weapons also do not break when being refined, another of his major annoyances in monetization systems. These are things they will keep a close eye on balancing going into the western version.


After all the demonstrations were said and done, they then went on to answer various questions from the audience.

Beta keys are currently not available but are being planned for the future.
There is currently no plans for regional IP blocks.
There will be no fatigue/vigor system like in the Chinese version.
Servers will be located in Dallas, Texas for NA and Frankfurt, Germany for EU.
The Blade & Soul Dojo fansite was given a shoutout, as this fansite is one of the oldest English B&S fansites in existence.
There will be contests, events and holiday events.
Character transfers will not be possible from foreign versions of the game to the English version.
A fansite kit will be available soon.
There's currently no details regarding founders' packs.
The game will NOT be censored.
Lastly, a cutscene from the game was also shown off as a player-controlled character was preparing to ambush a gang of thugs. The voice acting was incredibly cheesy (which I personally loved since it gave the game a dubbed Kung-Fu movie feel)
All in all, the stream contained a wealth of information for those that are new to the game and are longtime fans, as well. As more livestreams will be prepared for the future, staff members of NCSoft will be visiting the Blade & Soul Dojo fansite to answer any and all questions until their own official forums will be ready for the public.
Rogue Factor's turn-based tactical RPG adaptation of Games Workshop's tabletop game heads into Early Access Phase 6.
by MissyS
Krealit announces the release of Guns´n´Zombies action game on Steam Early Access. In addition to captivating and dynamic battles with horde...
by Mikedot