Black Desert Online Reveals 'Season of the Hunt'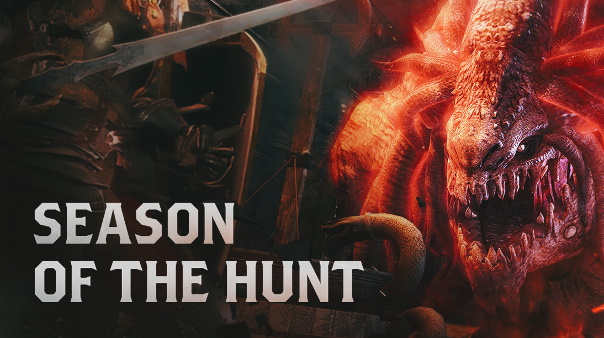 Black Desert Online has a new series of in-game events coming on September 25th, called Season of the Hunt. Over a three week time period, these events will appear, each event going two weeks or longer. The first is "Trina Knights First Captains Support (7 Days) giveaway for high-level players. This kit will let them claim high-tier weapons and accessories. Eligible players (lvl 56 and lvl 58) will be able to claim the kit between the 25th of September up until the 23rd of October (before that day's maintenance).
"Fever Time Boost" begins on September 25th and gives all players up to +200% Combat EXP and +30% Skill EXP Boosts. This will let players level up faster than ever before, and is ideal for leveling alts. This buff will last until the 8th of October. "Special Challenges" will be available throughout the first two weeks of the event period which rewards players for playing Black Desert Online for a certain time duration. Items that can be obtained includes [Event] High-Quality Draught Box, [Event] Extra Combat EXP Scroll, [Event] High-Quality Food Box and more.
For the first two weeks of Season of the Hunt, there will be a "World Boss Drop Rate Boost" , which doubles the drop rate of coveted Boss items. This includes Garmoth, Vell, Kzarka, Nouver, Kutum, Offin, Tett and Karnada. By completing "Marni's Stones Event" players will be able to get even more rewards if they can fulfill its challenges within the Season of the Hunt time window.
On October 2nd the "Special Pouch Drop Event" will reward the game's best combatants, gatherers, and fishers with event rarity and fortune pouches that can randomly yield players with coveted upgrade items. There will also be a new grinding spot for high-level players, the "Kratuga Ancient Ruins". Adventurers can combat mysterious ancient weapon constructs that drop Elkar, a material that is needed to produce Elkar's Crystal. This new type of crystal has All Accuracy +12 and Ignore All Resistance +10% effects and can be equipped on main weapons. Players will need a Black Spirit's Claw to enter the Kratuga Ancient Ruins via Hystria Ancient Ruins and it is recommended that they have an AP of at least 250.
GTArcade announces the upcoming open beta for Knight's Fable, its newest MMORPG.
by MissyS