Black Desert Online Reveals New Boss, Class, and More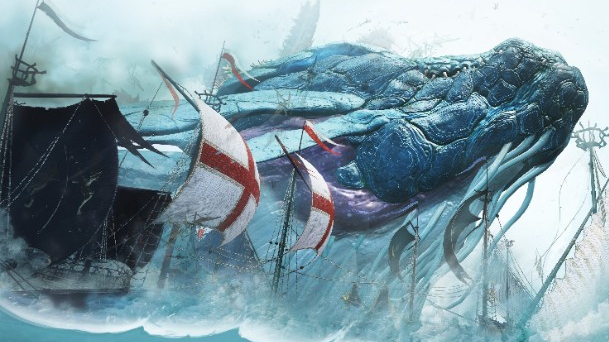 Pearl Abyss announced new content for Black Desert Online during a livestream this weekend.
The reveals included Vell, a gigantic sea monster claimed to be "as large as a city," and which lurks beneath the waves of Margoria. Also revealed are:
The Black Raptured Dimension
A brand new mode which pits players against waves of attacking monsters on an island with limited resources. Some resources are dropped by slain monsters and can be used to build powerful defenses such as new weapons, barricades, flame towers, and other fortifications.
The Siege War: Militia
Siege Warfare gets a rebalance by allowing players who are not part of a guild to join a side and participate in the battle. This new dynamic means that militia mercenaries may push the tide of the Siege War unpredictably, and may challenge powerful guilds who are used to holding their territory. The militia also operates anonymously, hiding guild and nicknames from other players.
Additional strategic elements will be introduced, like the Shield Soldiers. These frontline soldiers are only allowed to carry shields, but are highly effective against flame tower attacks and will deepen strategic options.
Kamasylvia Part II
Currently in development, this new territory includes the capital city Grana and surrounding regions such as the Tooth Fairy Forest, the Winnie Rune Huts, the Forest of Poly, Ringwood Forest, Forest Lone Roth, and Guy Finisha Temple. Players can look forward to new battlegrounds, a 1v1 PvE arena, and new enemies and allies.
The Striker Class
The Striker is a class that harmonizes classical martial arts with street fighting. You can learn more about his unarmed techniques in this new reveal video.
The updates also include UI and guild system improvements, a climbing system, new airships, skill promotion, and the legendary unicorn mount.
With just 5 days to go until the Albion Online Winter Alpha, the developers are getting the test off to an exciting start with a promotion whi...
by Mikedot
Big news on the War Thunder front: An expansion to the Naval Forces section of War Thunder.
by Ragachak
The Heart of Fire features Acquisitions Inc., and will be hitting Neverwinter's console edition in January 2019.
by Ragachak