Battlerite Unveils New Champion and Easter Festivities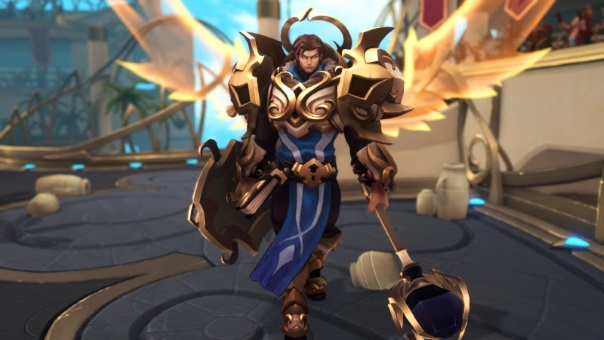 Stunlock Studios unleashes Ulrich, the Unwavering Light upon Battlerite as well as announce the return of Bakko's Egg Brawl as part of the Spring Chicken Bundle.  Wielding a hammer of Justice, holy light and the Aegis of Divinity, Ulrich will bolster his team's defenses with healing and shields while also offering ferocious melee support. He spreads the word of the Light and demonstrates the primacy of the Truth Path.
In addition to this, as a part of Update 1.5 Bakko's Egg Brawl replaces Duel. Play as Bakko, with your team of other Bakkos and hunt for magical eggs hidden around the Arena. Hurl them at your enemies, and discovery a variety of custom Battlerites in this chaotic game mode. Winning 15 Rounds of Bakko's Egg Brawl rewards the Golden Rooster Chest, which contains the Golden Rooster and two random Rare items. The old system of Battlerites (choosing one per round) has returned for this mode. So gather your brood together and claim your prize before April 11th.
Nexon is providing players of the epic 3D MMORPG, Legion of Heroes with new characters, content and system updates this Easter.
by MissyS
Above and Beyond Technologies announces reaching more milestones in the funding for The Repopulation.
by MissyS
The first major StarCraft II tournament hosted in Atlanta, the live spectator event brings the best in eSports entertainment, to Atlanta's m...
by Mikedot