Bandai Namco Open House 2016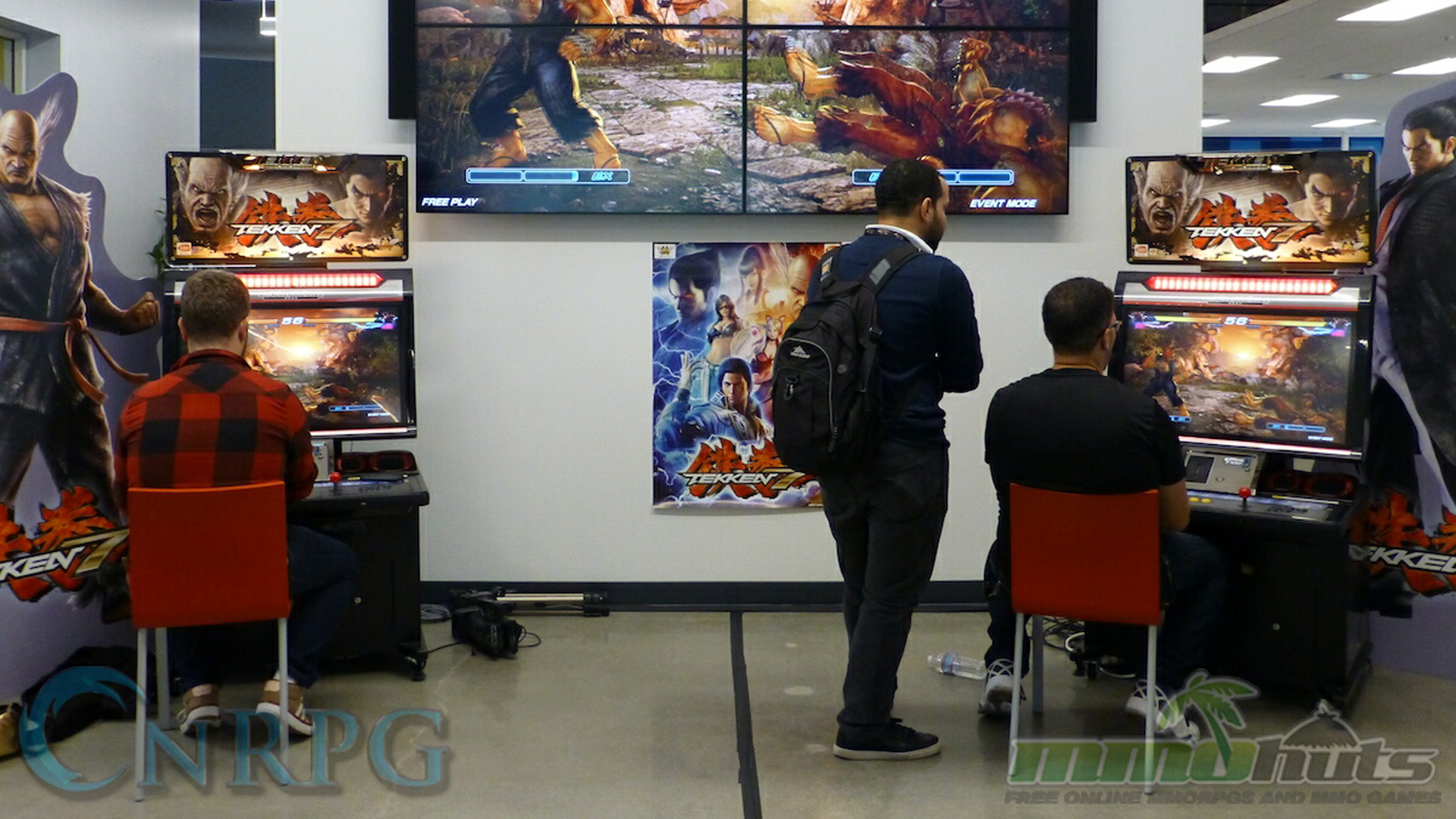 While at Bandai Namco's Open House event last week we got our hands on preview builds for a bunch of games, including Necropolis, Warhammer 40,000: Eternal Crusade, and Sword Art Online: Hollow Realization. This'll be a rundown about the games as well some quick initial thoughts.
Necropolis
First up is Necropolis, a 3rd-person action Souls-esque co-op game billing itself as a "Diabolical Dungeon Crawler." As the story goes, you and your party delve deep for rumored treasure within the Necropolis – the aging labyrinthian workshop of the powerful wizard Abraxis. One of Abraxis' creations, the Brazen Head, is tasked with monitoring the Necropolis in its master's absence. From what we can tell, the Brazen Head has heeded this task for quite some time, and the solitude has warped its sensibilities… and humor. Something sinister lies deep within the Necropolis, as adventurers have never reemerged.
The most striking thing about Necropolis is the cel-shaded art direction. Hairbrained Schemes created their own shaders and lighting effects for the Unity Engine to give it its own unique visual style. Necropolis also has its own physics system and method to generating levels. The closest thing that Necropolis has to an antagonist is the aforementioned Brazen Head who has a very laissez faire approach to maintaining the Necropolis. As a result, its humor is both whimsicle and dark, sort of like Portal's GLaDOS.
Necropolis' control scheme is very, very similar to Dark Souls'; movement, item usage, attacks, blocking, and dodges are all mapped identically with the exception of 'jump.' Unlike Dark Souls however, there's an on-person crafting system that utilizes enemy drops as reagents. Necropolis feels good to play, as good as Dark Souls does with a controller, and is played in much the same way: carefully, and without mercy.
The killer features of Necropolis are the randomly generated dungeons, the hard-but-fair difficulty and death system, the online four-player co-op, and a more straightforward approach to the dungeon crawling experience. Taking a rouge-lite and Gauntlet approach to things, up to four players slay their way through dozens of enemy types with magic, weapons, and craftable items. Unlike in Dark Souls where you usually only encounter a few enemies at once, Necropolis isn't afraid of spawning a whole lot more with huge aggro ranges. Permadeath and friendly-fire are always active, but if there's a remaining party member then it's possible for the whole group to recover. In leiu of the permadeath system is the Codex, which is a journal of sorts that keep track of stats, equipable character skins/outfits, and discovered potions. Necropolis streamlines the dungeon crawling experience by way of a tiered equipment system; weapons, shields, and spells are graded on a 0 to 5 scale for damage, but they all feel distinct enough that players will develop their own preferences. Normally in dungeon crawlers players spend a lot of time poring over their inventory and stats, delaying the party, but Necropolis doesn't have that problem at all due to the simplified equipment tiers.
It's a nice happenstance that Bandai Namco would be publishing a Souls-like game in addition to Dark Souls III this year. Necropolis is currently in closed beta in an effort to polish up things in preparation for a summer 2016 release on PC, Mac, Xbox One and PlayStation 4. We're looking forward to its release; it's going to be fun for any souls players looking for a more cooperative experience when they're done with Dark Souls III.
Warhammer 40,000: Eternal Crusade
Next up is Warhammer 40,000: Eternal Crusade, a 3rd person action shooter from Behaviour Interactive. Eternal Crusade brings large scale goal-oriented battles to the table with 15v15, 30v30, and horde modes. Featuring four races (Space Marines, Chaos Space Marines, Orcs, and the Eldar) with their own subclasses, Eternal Crusade will have quite a bit of playstyle variety. For those who haven't seen any gameplay, it's like a brutally gorgeous mash of Gears of War and Battlefield, except with more death, honor and "WAAAAUGH."
Games Workshop is usually highly involved in ensuring a Warhammer Game maintains authenticity and likeness to the franchise, but from what we've been told they haven't needed to be very hands-on because the developers over at Behaviour Interactive are fans of the Warhammer 40K franchise themselves. As such, have been keeping the game inline with the series' universe on their own accord. In keeping with the theme, all sorts of weaponry ranging from bolters, flamers, and plasma weapons to psychic powers are already playable or planned for the game's release. Upper echelon units like dreadnaughts and librarians may make a playable appearance, or so we're told.
Visually and gameplay-wise what we saw looked good. Eternal Crusade is simultaneously shiny and grimy; battle beaten combatants covered in shimmering scratches over muddy terrain is standard fare. Thanks to the Unreal 4 engine the skybox, lighting, and particle effects are appropriately active and vibrant. In other words, it's true to the Games Workshop Warhammer 40K artwork and books. Meanwhile, gameplay is focused on weighty movement, melee combat, and holding the lines at a close to midrange distance against self-forming squads of enemies pseudo-bunker jumping between cover. Teammates can pick eachother up to prevent bleeding out, but reinforcement mechanics like drop pods haven't (and maybe won't) be implemented.
As mentioned previously, Eternal Crusade will feature large teams and objective based maps and gameplay of up to 30v30 (hopefully even larger modes to come), but it'll also have a horde mode featuring multi-man defense against an onslaught of Tyranids. Whether or not the horde mode will allow for multiple factions to engage the mutual enemy, or allow for PvP within it, has yet to be determined.
It's noteworthy that Behaviour Interactive has been highly engaged and transparent with their community, hosting weekly livestreams on Twitch and releasing VODs on YouTube. As it stands, two of the factions are currently playable (Space Marines and Chaos Space Marines) while the others are in internal testing. We've been told that a steady stream of content updates is scheduled to follow after the release of the game, and microtransactions related to character and loadout customizations have yet to be determined. Standing back a second, it seems like a match made in heaven – a well-established franchise, an enthusiastic developer, and a die-hard fanbase are combining to make a great game.
Warhammer 40,000: Eternal Crusade is planned to be releasing sometime this year, and it's already available via Early Access on Steam ($39.99) with over 50,000 registered players.
Sword Art Online: Hollow Realization
Wrapping it up is Sword Art Online: Hollow Realization for the PlayStation 4 and PlayStation Vita. Featuring an original story branched from the main series, supervised by Reki Kawahara, and a throwback VRMMO setting called Sword Art: Origin, this game will certainly turn some heads.
The story is still unfolding, so bear with us. Hollow Realization takes place after the main Gun Gale Online story arc and is set in a "new" game called Sword Art: Origin – which was built using Sword Art: Online's servers (which if you think about it, is about as tactful as making a Twin Tower survival game for New Yorkers post 9-11 after how badly the whole Sword Art fiasco went for Japan). In the world of Ainground, instead of Aincrad, Kirito pursues a lead about someone returning to Sword Art: Online and is subsequently trapped, again, within the virtual world. Ainground shares many similarities with Aincrad, and many of Kirito's friends show up in the game as well, somehow lured back into the death trap they once escaped. The mystery is further compounded by the introduction of a new AI, "Premiere," who will "play a critical role in the story." Clearly there's some trickery afoot, and it's up to Kirito to push through it.
Hollow Realization is the most MMO-esque of the Sword Art Online games thus far with a familiar HUD layout, party chatter, ability hotbar, mob pods and bosses, and AI-controlled parties hunting and questing nearby. Though it's not actually an MMO, you will still be able to cooperatively play with up to three friends in a party (though everyone plays as Kirito in the main game – we're not sure exactly how player customization or multiplayer works yet). Hollow Realization is said to also feature a seamless open world, and from what we saw in our hands-on demo this is true.
Hollow Realization plays like a 3rd person Action/Adventure RPG, and very similarly to the past games with real-time inputs (read: some button mashing), dodging, and the 'switch' mechanic leading into combos. There's a whole bunch of abilities ranging from counters, more powerful and frequent attacks, as well as jumps and dashes to make both combat and world traversal more manageable. By default, movement feels a little slow, so we anticipate players spamming their jump and dashes, and consequently draining their SP meter, to get around more quickly.
In the demo we played the HUD is a bit distracting, and overactive in combat; too much of the interface edges toward the center of the screen, and the HUD elements are not well situated in the corners or customizable like in an actual MMOs. Character callouts – whether in Japanese or English – and damage numbers are claustrophobic as the floating text overlays itself above important information like healthbars and pretty much everything else. On the other hand, the equipment HUD is clean and focused. There's a real need for uniformity and polish for the combat HUD to provide a better play experience.
Fans of the series will be delighted to see the visuals in Hollow Realization; it's clearly the best looking SAO videogame to date. Fans will also be glad to know that the game will feature both Japanese and English voice acting with optional English, Spanish, and French subtitles. Though it's not an MMO, it's one step closer to what we've all been waiting for, and will keep eager players entertained.
No firm release date has been announced yet, but Sword Art Online: Hollow Realization is scheduled for a release on both of Sony's active platforms later this year.
Next Article
Join us Tuesdays and Fridays for gaming, previews, and giveaways!
by MissyS
Pearl Abyss held a two-hour press conference last weekend, and announced the specifications and release date for "Black Desert: Remastere...
by Ragachak
My.com have today revealed the details of PvP battles and the new system adopted to ensure players enjoy a fair fight when squaring off in com...
by Mikedot