AVerMedia Launches Compact, Versatile 'Live Streamer MIC 133' Microphone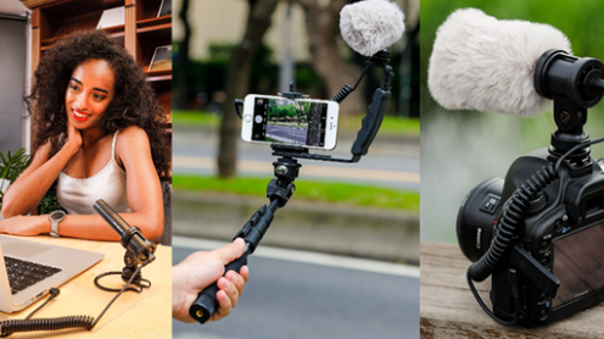 AVerMedia announced today the launch of an exciting new product in their LIVE STREAMER technology. It is available at Amazon and Best Buy now, for a suggested MSRP of $69.99. This new mic, the MIC 133 provides high-quality (20Hz-16KHz) audio in a compact, versatile package. This will be useful with cameras, laptops and mobile devices. The included accessories will also add functionality, whether indoors or out, for voice recording or vocals. This will be useful with or without headphone monitoring, no matter the circumstances. This is especially important for "IRL" streamers, where anything can happen, and often does, without a script. It is compatible with the Android, iOS and Windows systems, and will compliment the rest of the Live Streamer line of products.
The Live Streamer MIC 133 package includes the AM133 unidirectional cardioid condenser microphone that can be connected to a smartphone or laptop via 3.5mm jack or mounted on a camera via its built-in camera shoe mount. The lightweight mic weighs just over a single ounce and is sensitive (-37 dB ±3 dB) and quiet (60 db S/N ratio), yet able to withstand high noise levels (maximum SPL of 110 dB), enabling it to record anything from a whisper to a loud concert with fidelity and minimal artifacts and noise. The unidirectional mic pattern is optimized to capture the speaker's voice while rejecting audio from the sides and rear. This keeps the focus on the live streamer, ideal for live broadcasters, content creators, and vloggers.
"The Live Streamer MIC 133 gives live streamers a complete, highly portable package with everything needed for high quality audio recording using a camera, laptop, or mobile device," said David Kao, Sales Director of AVerMedia. "When you combine the quality, reliability, form factor, and maximum flexibility of our mic package, it offers an unmatched real world solution for video creators."
Product Details
Type: Condenser microphone
Directivity: Unidirectional
Output: 3.5 mm jack
Impedance: 1.5 KΩ
Sensitivity: -37 dB ±3 dB at 1 kHz (0 dB = 1V/P)
Frequency Response: 20 Hz — 16 kHz
S/N Ratio: 60 dB
Maximum SPL: 110 dB
Dimensions with Stand (W x D x H): 70 x 83.3 x 132.25 mm (2.75 x 3.28 x 5.2 in)
Weight: 80 g (2.82 oz) with stand | 30 g (1.06 oz) without stand
System Requirements: Compatible with smartphones, camera, and computer devices with a 3.5mm audio-in jack
MSRP: US$69.99
Waystone Games, the EA studio behind the new MOBA, Dawngate, has launched EU Servers Alpha and Practice Mode (bots) while at Gamescom.
by MissyS
eigoMANGA will showcase the SteamOS beta version of Vanguard Princess at the Evolution 2016 Championship Series (Evo 2016).
by MissyS
The war is now officially in full swing in Soldier Front 2 from Aeria Games, a leading global publisher of free-to-play online games.
by MissyS