Ashes of Creation All Hallow's Eve Celebration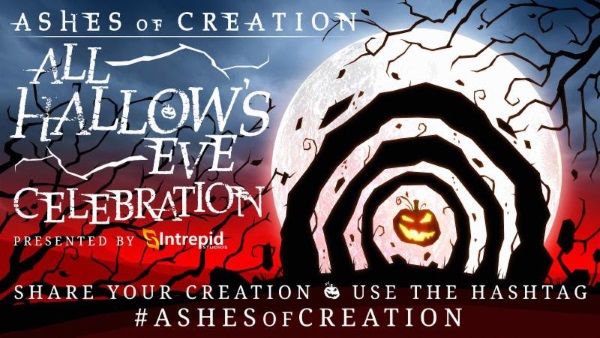 This month, Ashes of Creation will be celebrating Halloween in an extravagant style! There are a variety of fan contests and events for everyone, and if you're lucky, Alpha Access could also be yours for participating! PIles of Alpha Zero keys await, and all you have to do is please the Sand King, Steven! Every day up until the 31st, the developers offer you a chance to use your creativity to show off and win! The spookiest will be rewarded with a chance to playtest the game with the devs in December! They're also offering a "Spook-a-Thon" Stream on Halloween where you can see the chosen winners of the monstrous creations with them!
Events:
Intrepid's Costume Ball!
Who knows what ghastly sights will wander around our Studio on the 31st. Wizards and memes will surely fill the air with all kinds of horrors. But what is a party without some additional frightful guests? The Team at Intrepid Manor has extended an invitation to you this haunted hour; come one come all to the Spooky Scary Intrepid Costume Ball! Be sure to dress to impress, even down to the pets!
For rules and submission entries please head on over to our Intrepid's Costume Ball 
event page
.
Pumpkin Carving!
Now then, now then, this is all well and good for later frights, but what on earth can we do 
tonight
? On the first Haunted Hallow-day, Intrepid gave to me: a Pumpkin Carving Contest, whoopy! Bring your creativity to life for a chance to be included in our upcoming testing phase and have your piece showcased live on Twitch!
For rules and entry submissions, please head on over to our Pumpkin Carving event page 
found here
.
Halloween Fan Art!
But what of our minions who prefer a paper canvas to a pumpkin? Weave your quill to summon the most horrific sights. Unleash your minds this Hallow month to show the world how Verra celebrates the night. All creativity is allowed on these unholy grounds, but the minions who personify our world the best will walk away with a crown.
For rules and entry submissions, please head on over to our Halloween Fan Art event page 
found here
.
Horror Short Story Night!
For the wordsmiths among us who moonlight as bards, there are untold legends of Verra that we entice you to impart. The local legends murmur of many horrific sights, we beg that you regale us with our Horror Short Story Nights!
For rules and entry submissions, please head on over to our Horror Short Story Night event page 
over here
.
BANDAI NAMCO Games Europe S.A.S announced today that RIDGE RACER DRIFTOPIA's open beta will be finished in 60 days. The leading developer an...
by Mikedot
They have style. They have grace. They'll throw chakrams at your face.
by Outfoxed
Mutation mode in Global Strike is ready to bring more interesting gameplay content to players. Players will be infected and turned into mutant...
by Mikedot