Armored Warfare: Early Access Test and Founder's Sale Announced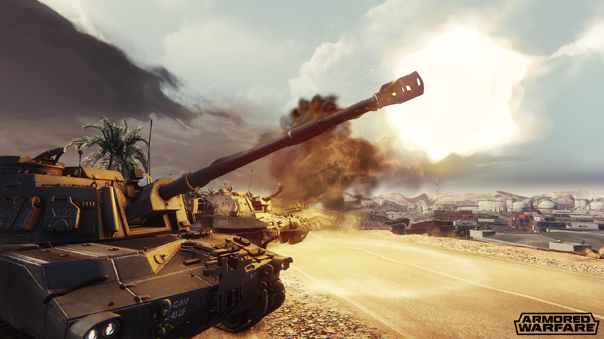 Obsidian Entertainment and My.com have announced that Armored Warfare, the upcoming modern day tank multiplayer action game, will be having its first Early Access Test on May 27 – June 3. Founder's Packs for Armored Warfare have also been revealed and are now available for fans to purchase.
This one-week Early Access test kickstarts a series of tests that will eventually lead to the upcoming Open Beta. A limited selection of players that submitted for "beta testing" (now "early access testing") as well as players lucky enough to win keys given out during competitions will also be invited to each of Early Access tests.
"This is our first chance to show the game to a larger audience, and we invite everyone to join up and help shape what Armored Warfare becomes." said Feargus Urquhart, Founder and CEO of Obsidian Entertainment. "We have been thrilled with the feedback we've been getting from our testers and the community at large, and now it's time to move to the next phase. We have spent countless hours of development time to craft what, we hope, will be the ultimate experience for tank and armored vehicle enthusiasts. With your help we can make that a reality. So, login and come join the fight with us in Armored Warfare!"
The first Early Access test will feature PvP battles across 4 maps with uniquely different climate zones and settings: from port area in desert sands to a snow-covered town. Players will be able to test 38 modern vehicles from 6 tiers covering all 5 types of vehicle classes in the game, including: main battle tanks, AFV's, light tanks, tank destroyers and artillery.
To get guaranteed access to this and further tests, as well as early access to Open Beta and other advantages and rewards including premium and exclusive vehicles, gamers can purchase one of the three available Founder's Packs:
*Soldier of Fortune – A bundle for new soldiers of fortune that contains everything you need to start your mercenary career at only $14.99.
*Mercenary Commander – A bundle for experienced commanders that contains a premium vehicle as well as gold and premium status upgrade along with everything from the Soldier of Fortune bundle at only $29.99.
*Lord of War – A bundle for the most ruthless of mercenaries who make no compromises and take it all. Contains exclusive vehicles as well as all the bonuses from other bundles at only $69.99.
For more info, visit http://aw.my.com/
Starting today, Star Trek Online players on PC can explore Season 14.5, the epilogue to the Tzenkethi War.
by Ragachak
This massive update includes bug fixes, new content and feature enhancements as well as the ability to unlock the divine form.
by MissyS
So, it's a very slow news week, guys! No patch notes are out yet for any game, so it's kind of a rough one.
by Ragachak