ARK: Survival Evolved Roars Onto Early Access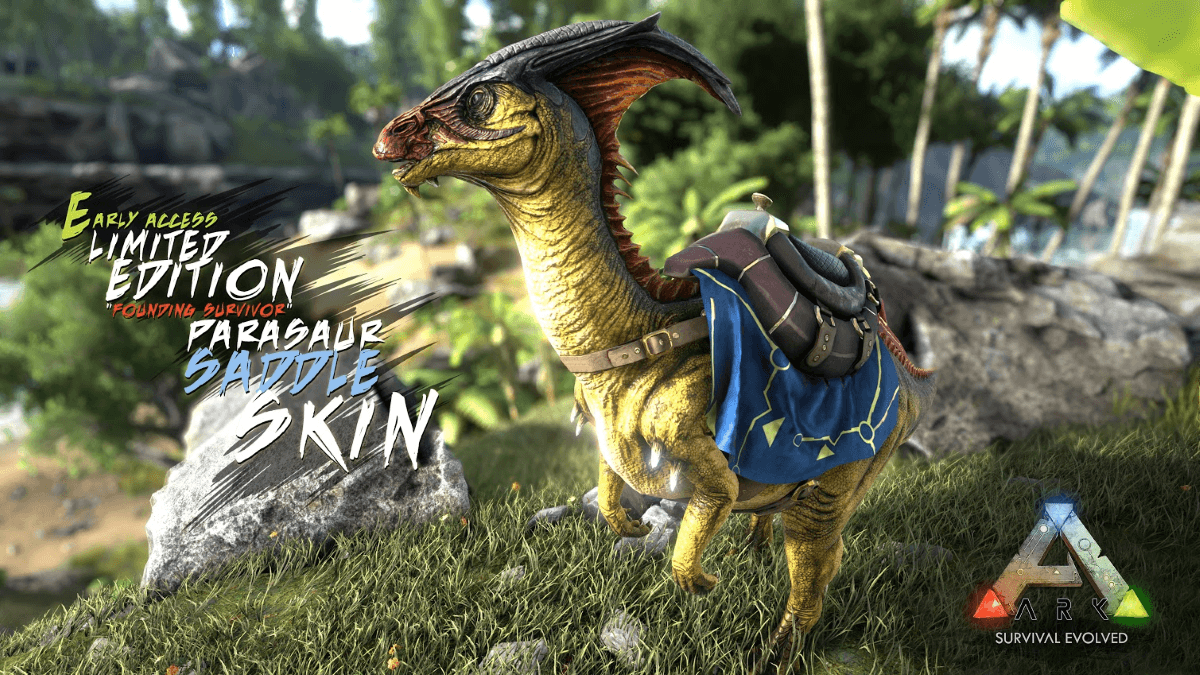 Video game developer Studio Wildcard is proud to reawaken the world's primordial desires to play with dinosaurs in the open-world adventure game ARK: Survival Evolved. Launching today on Steam Early Access, players can now dive into this dynamic ecosystem where they will craft weapons, clothing, and tools, build multi-story houses, join and commune with other tribes, and tame, train and ride dinosaurs.

ARK: Survival Evolved is now available on Steam Early Access for the launch discount price of $24.99 (retail $29.99).

ARK takes on the survival genre with a unique blend of emergent multiplayer cooperation and competition. Players awake naked and starving on the beach of a mysterious island among a herd of other confused humans. They immediately discover that going it alone is a dangerous hardship. Those who work together will quickly learn there is power in numbers. What is the secret to survival? Each person must contribute to the collective effort: hunt, harvest resources, craft tools, research technology, and build shelters to protect against scorching days, freezing dark nights, volatile weather systems, ferocious wildlife, and lurking predators.

The open-world design of ARK is so big, mysterious, and filled with revelations that gamers will constantly be adapting and learning about its seemingly endless content. This includes a deep level of customization from the very beginning in the character creation screen, enabling highly unique features, from the herculean to the intensely bizarre. Players can:
Join a tribe, plant renewable crops and build an entirely functioning village with a sustainable economy
Train and level up "pet" dinosaurs to carry allies, inventory and equipment
Increase levels by experiencing the varied elements that the island has to offer
Sneak up on unsuspecting survivors, render them unconscious, then steal their gear
Grab a ringside seat to watch dinosaurs battle to the death
Maintain individual health by searching out meat sources, plant types, and drinkable water, or starve
Craft clothing to protect yourself from extreme weather conditions or freeze to death
Build a deluxe, multi-story house that includes ramps, beams, gates, remote gates, trapdoors, water pipes and faucets, generators, wires, electrical devices and more

ARK: Survival Evolved will launch in summer 2016 on PlayStation®4 with Project Morpheus support, Xbox One via the ID@Xbox program, and Steam, including Oculus Rift VR support and a thorough integration of Steam community features such as Steam Economy and Steam Workshop for custom maps and mods. Players will also be able to host private/LAN servers, and have access to a custom-built version of the Unreal 4 Editor for creating mods. The world of ARK is designed to be modder-friendly and ever-expanding.
Next Article
The newest update for League of Angels - Fire Raiders is now available!
by MissyS
The official date for Console Captains in Star Trek Online for Season 14: Emergence is November 14!
by Ragachak
GrimmWood -They Come at Night really is a fascinating and well put together bit of software.
by NWOrpheus