ARK: Survival Evolved Launch Plans – No Wipes, PVP Servers, More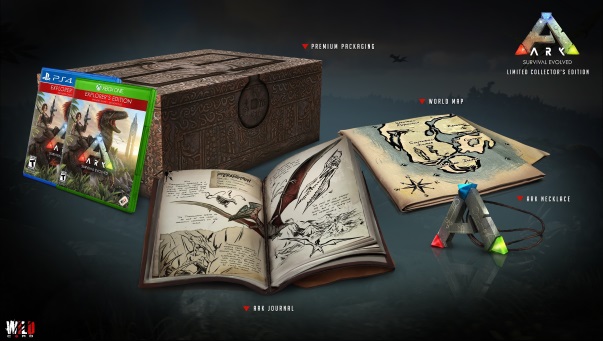 ARK: Survival Evolved is inching towards its full launch [August 8th] and despite hacking/cheating, they have confirmed there will be no wipe. Though more infrastructure has been added to help combat cheating.
Second, the third official mod for ARK, 'Ragnarok', will roll out to both PlayStation 4 and Xbox One players on launch day. This massive map is free to download for all players, featuring a Griffon and a beautiful new environment. PC players can expect Ragnarok to receive a large update this week with new areas to explore and a whole bunch of bug fixes and QOL changes.
Lastly, on launch day Wildcard will have support for private rentable dedicated servers made available via hosting company Nitrado for both Xbox One and PlayStation 4 players! These servers will be available at a very low price, to make them available to as many ARK denizens as possible.
These rentable servers will feature –
No need for a second console to host personal servers!
Complete access to all of ARKs custom server config settings, which will let players change the rules on their custom ARKs
The option to create cross ARK Clusters for the ultimate ARK Experience — allowing travel across four Maps
Create a backup of server save files, allowing players to try something new without the fear of losing data
The servers will result in higher performance due to better optimization
Player servers will now be able to support a larger pool of players, up to 100!
Next Article
NCSOFT and ArenaNet have announced the second new feature of the April 2014 Feature Pack: the Wardrobe, an account-wide system that allows you...
by Mikedot
Netmarble announced that IDEA (working title) is targeted to launch in South Korea this July with a North America release to follow.
by MissyS