Antlion Audio's ModMic Wireless Review (Hardware Review)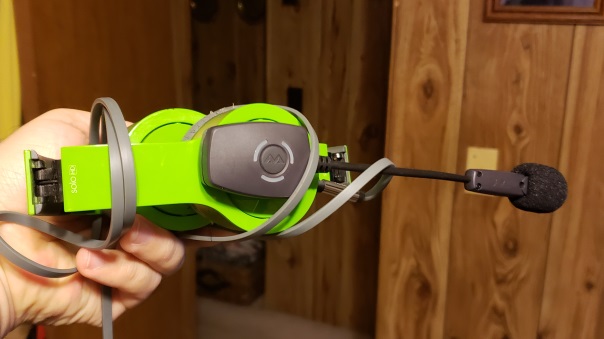 It's getting pretty hard to shake up the Microphone game at this point for consoles or PCs alike. We pretty much have everything for virtually every price range. But what about a mic that you can attach to your current, comfortable/studio-quality headphones? That's something that was missing up until recently. Antlion Audio produced a small, portable boom mic for PC/PS4, the ModMic Wireless. It connects to a set of headphones via a small (but powerful) magnet. Another definite positive for the ModMic wireless is that it doesn't require a ton of setup and it's small! It doesn't take up a ton of space with a long arm and huge cables that snake around an office or bedroom, like the mic I use for my PC. Now, it's not a replacement for my audio set up I use on PC/Console, but it's a terrific starter mic, if not a bit specialized. This is only the Microphone, so it's definitely aimed at people who already have a set of headphones they like to use and don't want to spend money and space on yet another pair.
Personally, I used my Modmic with my pair of Beats by Dre and was glad to see that everything I needed came in the package. The last Antlion Piece we reviewed needed a separate attachment to be used on consoles, so I'm relieved that this is no longer the case. The microphone itself is on a three-inch arm, and it came with a pair of magnets, so you can attach it to two different sets of headphones if you need (Or if you just want to hold the other as a replacement – just in case something goes awry). The ModMic also comes with a charge cable that you plug into the mic and then into the wall/into your PC, and a USB receiver for the wireless mic. It did not fit into my PS4, but thankfully it comes with a USB extender. I have a second run PS4, so the larger receiver just didn't fit. Everything was fine once I used the extender though. While no, you can't see if the lights on the side of your head are lit, you can see them on the receiver, so at least you'll be assured of the mic being muted there, should you have a need.
I was relieved to see that it immediately synced up to my PC, as I tested it there as well as on my PS4. I wanted to try recording some of the audio to listen back to it, and while it wasn't as perfect as the current set-up I use, the audio itself was clear, easy to understand, and picked up pretty much everything it needed to. The mic itself is pretty sensitive, so I recommend highly something that Colton constantly suggests to me – do audio tests before you go live with it. You want the sound to be exactly what you're after, so you may need to play with the boom mic's arm/position, as well as the settings on your PC/PS4. It doesn't come with software to adjust the sensitivity of the mic, nor can you set it on the mic itself, but that's what OBS/PS4's audio settings are for! I know I said earlier that it comes with everything you need, and that's *mostly* true. Should you have headphones that have a headphone jack to plug into your PC or console, you're good to go. However, if you're using a wireless set of headphones, you will need to provide your own 3.5 mm cable. That's why I'm glad I used my Beats – I plugged them into my PS4 controller and ran it to my PS4 and to my PC and everything worked out.
Who Is This For?
Are there better mics that take up far more space? Yes, there are. But this mic isn't aimed at people that want those. This mic does have a clear sound and is easy to hear; on top of that, it has a recording mode and a noise-canceling mode, which is toggled on a switch on the mic itself. Esports aficionados I can see wanting to use this mic for sure. It's portable, doesn't take up tons of space, and you can take it with on traveling to events, or simply to have more room in your streaming/playing space. It's not a replacement for my current set up, but it's a nice option for if I'm not in my office and want to record something. For those of you that already have headphones, you're comfortable with/spent a lot of money on, this is certainly a solid option. I'm not the target demographic for this microphone but I nonetheless enjoyed using it, and I can see it being useful to people who want a mic when they already have headphones. I didn't hear any crackling or noise in the recording I made, and for 119 bucks, it's not a bad product at all. I do recommend it for people that are in that particular niche audience. Any wireless headphones can become a gaming headset with the ModMic Wireless, and that's pretty damn awesome. Though I do wish it would work on the Xbox One and Nintendo Switch. I prefer the PS4 anyway, but having more options for consoles would make it more viable for a bigger audience of players.
A product was provided for purposes of this review. The modmic can be purchased on their website below.
Do you love pirates? Fancy being a sailor in the Golden Age of sailing?
by Outfoxed
Studio Wildcard announced today that ARK: Survival Evolved is now having a Free Weekend on Steam, starting at 10 am PST today, Thursday, Augus
by Mikedot
A flurry of News of Substantial Significance has emerged from the front lines of the Clockwork Empire, foremost being that Her Majesty's ...
by MissyS