Anime Expo (AX) Cosplay Recap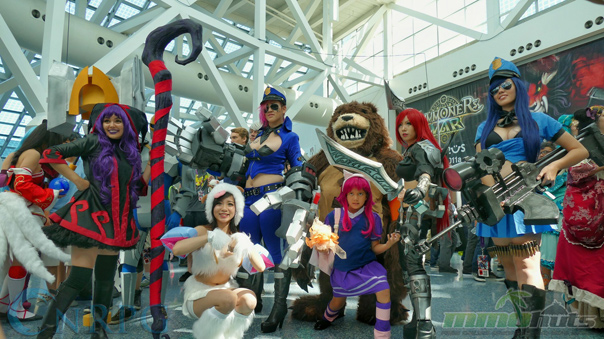 Pictures by Darren Henderson and Jean Pan (NuttyKit)
This year Anime Expo LA was larger than ever, as over 90,000 fans of Japanese Animation flocked to the Los Angeles Convention Center to catch a glimpse of the latest news, purchase some of the highest quality art prints, snag swag, and test out the coolest upcoming Anime games! While we had a chance to go hands-on with some of the sweetest upcoming games, including Namco Bandai's Naruto Storm 4, it was the mobile game publishers that were out in force this year.
Gumi Inc in particular had a sweet upcoming Anime styled mobile RPG, Phantom of the Kill. I played the game for twenty minutes and was surprised to find an experience not unlike Fire Emblem in terms of solid tactical RPG goodness, with fully animated attack sequences between characters, and strategically laid out maps forcing you to fully utilize your units strengths with proper formation to defeat overwhelming odds.
Gamevil was also present showcasing their critically acclaimed Kritika and Dragon Blaze, with some spot on cosplay characters from each. Despite Toast's tiny booth, their demo of drifting dating sim hybrid, Drift Girls, as well as their flagship game, Crusaders Quest, drummed up a line all the way down their booth's aisle!
But of course the true story of the show was the sheer unimaginable number of copslayers in attendance. I don't think any solo photographer could have captured them all, even if that was their sole purpose at the show. Every fifth person in attendance was wearing at least a partial costume, and every twelfth attendee had on costumes that would flat out dazzle you. We saw everything from full sized transformers, to a functioning R2D2 remote control droid, to the full cast of the original Power Rangers facing off with a gender bender line-up of Sailor Scouts! Catch all our shots below!
Grimoire: Manastorm has just had a major update which includes new character models, maps, and sound effects.
by MissyS
NCSoft and Carbine Studios have released a new trailer for their highly anticipated sci-fi MMO WildStar today, detailing several features of t...
by MissyS