Animation Throwdown: The Quest for Cards Mobile Game Announced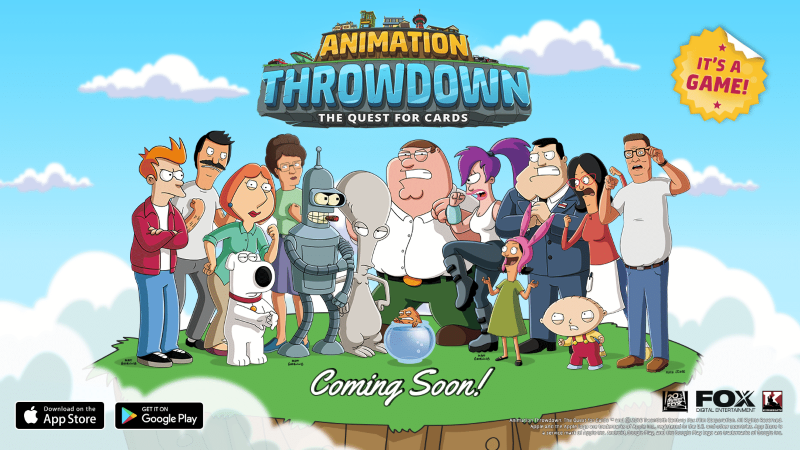 Fox Digital Entertainment and Kongregate, a leading publisher of mobile and web games and wholly-owned subsidiary of GameStop Corporation, today announced Animation Throwdown: The Quest for Cards, a new collectible-card mobile game incorporating five Twentieth Century Fox Television animated comedies: American Dad!, Bob's Burgers, Family Guy, Futurama, and King of the Hill.
Animation Throwdown: The Quest for Cards will give fans the unique ability to play as their favorite characters from each series as they set out to create the ultimate show-themed deck and compete against friends and other players in epic battles.
"We are thrilled to bring together these five animated comedies for the first time in Animation Throwdown: The Quest for Cards." said Emily Greer, president and co-founder of Kongregate. "We are looking forward to integrating characters from these hit series in a unique and exciting way that fans of all the shows will really love."
Kongregate is leading the game design and management and is co-developing the title with Chicago-based Synapse Games (developer of Tyrant Unleashed, Global Assault, and Spellstone) and San Francisco-based Chinzilla Games (developer of Little Alchemist). Synapse and Chinzilla have deep experience creating card battle games that appeal to both casual and core gamers. Animation Throwdown draws inspiration by combining the most popular gameplay elements of their titles into a single franchise.
"In Animation Throwdown, Peter Griffin will duke it out with Bob Belcher, or Leela, or even Hank Hill. Fans get to select their all-star lineup in this inventive, genre-bending game," said Rick Phillips, Executive Vice–President, Fox Digital Entertainment.
Kongregate will market the game to its global audience of millions of gamers who visit the Kongregate.com website each month. The company will also promote the game across its portfolio of mobile applications; through GameStop's 4,200 U.S. store locations, 40 million PowerUp Rewards members, and across the GameStop web and mobile properties. Fox Digital Entertainment will use its various marketing platforms to promote the game as well.
Animation Throwdown: The Quest for Cards is currently scheduled for release in Q3, and will initially be available on iOS and Android devices. The game will eventually be released on other platforms including kongregate.com.
Sign up to get news about Animation Throwdown at the official game page.
Next Article
Up until I had heard of Defenders of Time, I was surprised no one had made this idea into a more full-fledged multiplayer experience. I have s...
by Proxzor
Hirez has released patch notes for SMITE's upcoming Celestial Wedding update, set to go live on August 18th, 2015.
by DizzyPW