The Amazing Eternals Development Update and New Beta Codes!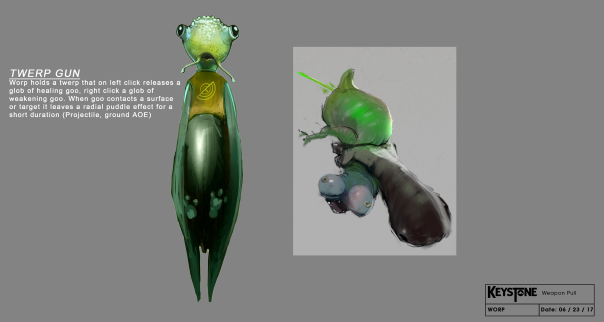 The Amazing Eternals development team just launched its first Devstream, revealing new information and details on the game's direction and upcoming new content. In celebration, we have more closed beta keys, which you can grab for yourself here!
The TAE team has brought back Niia, a sharpshooting cowgirl wielding a bow, along with her Western-themed map, Odona. Now a new Eternal has been revealed – Worp. Worp is an interdimensional traveler and support player. Worp uses "Twerps" as weapons, which he squeezes to shoot at enemies and allies alike to coat with deadly or useful substances.
More details revealed in a press release include:
Ray is getting an Alternate Skin. Ray's new wardrobe is a love letter to the vintage space rangers and pulp science fiction of the 1930s
Ray's map (the Space Map) will soon be uncovered. It features a space station on an asteroid floating in the inky blackness of space. Ray's map is of a comparable size to Odona, offering plenty of high ground with sentry and sniper points, and a mix of close quarters encounters and long sightlines. The map is also noteworthy because of changes to how players can Siphon Fragments. Fragments will now be Siphon-able from multiple elevations, allowing for unprecedented freedom and strategy when capturing objectives.
Mini-Boards are coming to The Amazing Eternals. Unlike the main progression board, Mini-Boards will be based around a specific Eternal. Mini-Boards have the ultimate reward of granting a Keystone card, which is a special Ability that replaces your usual Q Ability. Mini-Boards will have branching paths for players to progress toward different Keystone Cards. For example, Ray's Keystone Cards change his Turret to a Healing Station for his allies or a temporary Phase Shift that renders Ray untouchable by enemies for a short time.
A new Game Mode actively being worked on, one "shrouded in mystery." The Devstream crew tentatively referred to the game mode as "Daring Delivery"… Want more on this? See the Devstream Overview #1 here.
The Amazing Eternals will host a Devstream every other Friday at 4pm Eastern, with the next stream running Friday, October 6. The Amazing Eternals also will be shown next at TwitchCon in Long Beach, CA, from Friday through Sunday, October 20-22.
Remember – you can grab a closed beta key now from our giveaway!
Next Article
ArenaNet just released a massive update for Guild Wars 2 and its expansion, Heart of Thorns.
by MissyS
Fairytale Distillery has announced that Das Tal has updated majorly in the past few months to create a persistent open world.
by MissyS