AlphaDraft Adds SMITE to Roster of Fantasy Esport Games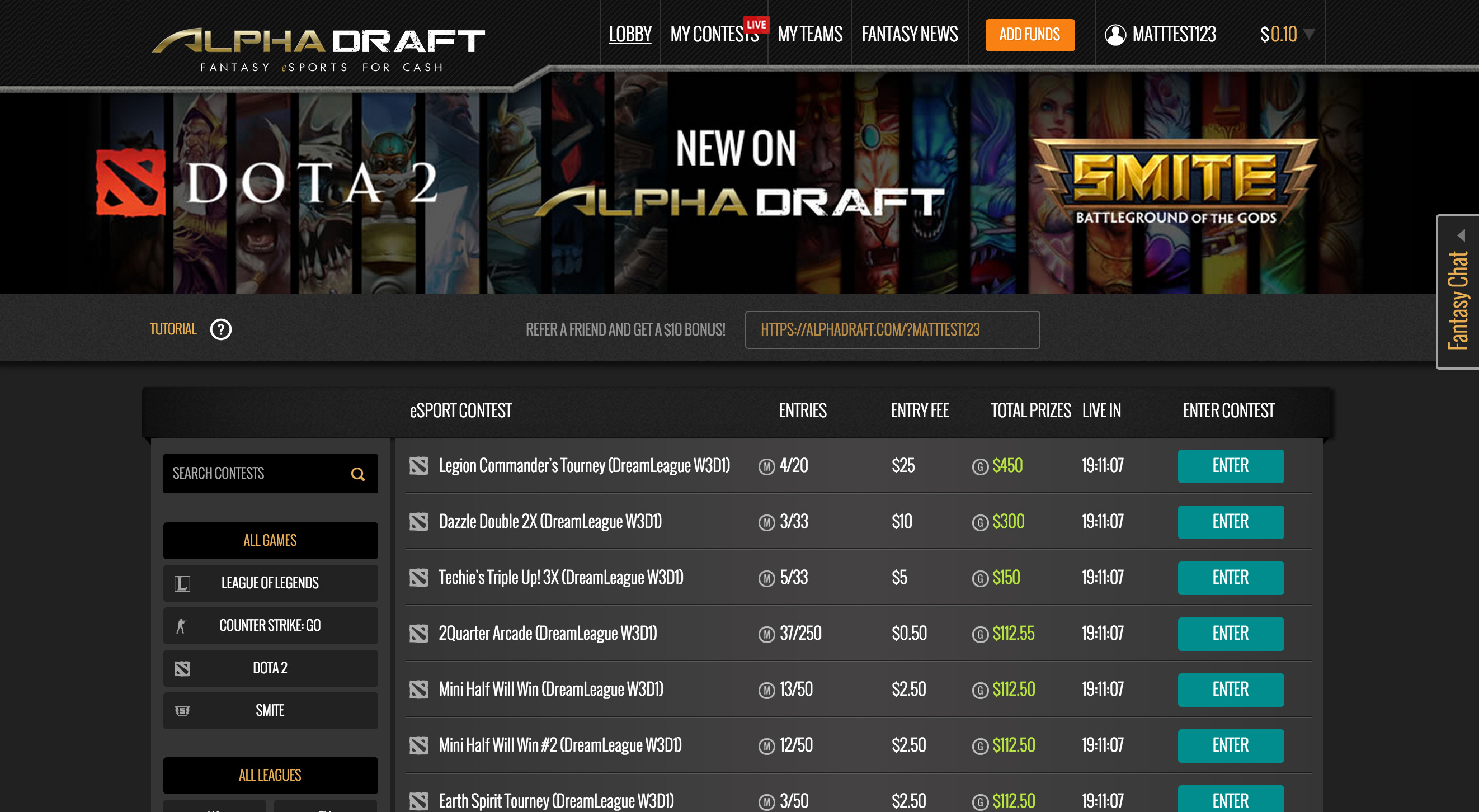 AlphaDraft – the premier daily fantasy sports platform that seamlessly blends the highly popular worlds of eSports, live streaming and fantasy sports contests – is thrilled to announce today a partnership with developer Hi-Rez Studios for their SMITE Pro League, an independent eSports league based around their smash-hit MOBA (Multiplayer Online Battle Arena) game SMITE. Both organizations have teamed up to provide in-line, real-time official fantasy stats during upcoming SMITE Pro League broadcasts.
Starting with the electrifying SMITE Pro League Summer Finals, where North American Team SoloMid prevailed over its competitors to win a $50,000 grand prize, AlphaDraft and Hi-Rez Studios introduced official in-depth fantasy statistics for players in the SMITE Pro League. To further enhance the spectator experience, AlphaDraft and SMITE developer Hi-Rez Studios worked together closely to integrate on-screen fantasy statistics directly into SMITE's official broadcasts during the SMITE Pro League, broadcast on Twitch.tv/smitegame and within the AlphaDraft platform at www.AlphaDraft.com. Official, real-time fantasy stats are an invaluable resource to the SMITE and fantasy eSports communities, and will be available throughout the Fall Split (August 15, 2015 – October 25, 2015).
"Many of us at AlphaDraft are and have been huge fans of SMITE. Once we started talking to the team at Hi-Rez, we realized just how passionate we are collectively about eSports and building a fantastic eSports community. This made a deep collaboration a no-brainer," said AlphaDraft CEO Todd Peterson. "As a result, Hi-Rez introduced elements of AlphaDraft's fantasy eSports algorithm into the SMITE Pro League, giving viewers the ability to access official fantasy player stats during the broadcasts. We can't think of any other scenario where a developer and daily fantasy draft platform have worked together so closely, with such great results that benefit the pro gamers, the community, and the daily fantasy participants."
"We're very excited to be working with AlphaDraft on daily fantasy for the SMITE Pro League," said Todd Harris, Chief Operating Officer of Hi-Rez Studios. "Like Hi-Rez, one of AlphaDraft's primary goals is helping to build and strengthen eSports as a whole. Our partnership with AlphaDraft gives us a tool to make SMITE broadcasts even better, with relevant real-time statistics and updates available to viewers as players battle it out, drawing spectators even deeper into the action."
In a short time, SMITE has cemented itself as one of the world's leading MOBA titles, sporting over 10 million players to date. AlphaDraft formally inducted SMITE (Windows PC version) into its list of supported competitive eSports titles for daily fantasy contests and drafting earlier this summer after much demand from its members. AlphaDraft is building on this initial support for SMITE by sponsoring the SMITE Pro League and by partnering to provide an exceptional additional resource for SMITE fantasy eSports fans world-wide.
Next Article
So far, there have been ten revealed Sentinels. Like most MOBAs, Shards of War has a theme or back-story surrounding their "heroes." Here,...
by ApocaRUFF
Planet Arkadia today announced the offering of Arkadia Underground Deeds, which will make up the world's first $1,000,000 virtual propert...
by Mikedot
The Quantum Rush developer team from Berlin has decided to transfer in medium term the multiplayer elements from Quantum Rush: Online to Quant...
by MissyS