Albion Online Final Beta Now Live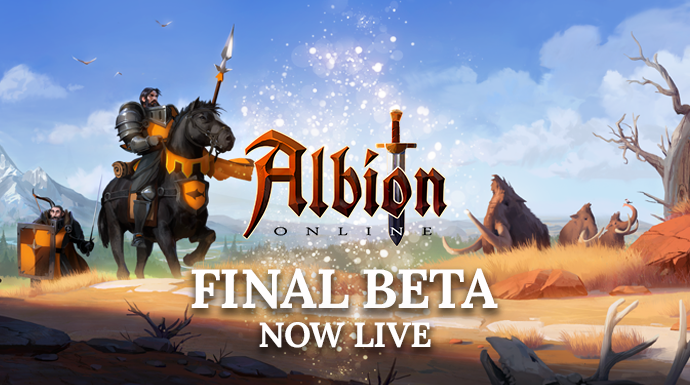 After wiping the servers clean, German developer Sandbox Interactive has started the all-important final beta for their sandbox MMORPG Albion Online. It's a fresh start for the 160,000 Founders already playing the game, who can look forward to accessing a new world and exploring the improvements and the brand new features the final beta has in store for them. Founders with Legendary status have access to the final beta now; founders with Epic and Veteran status can join them on August 2nd and 3rd respectively. Those who don't want to wait can still upgrade their Founder's Pack in the Albion Online Store.
In their quest to improve the players' adventuring experience in Albion, Sandbox Interactive has for example restructured the game's Destiny Board and revamped the Guild vs Guild battle system, also adding new features to the overall guild gameplay. But that's just one area where new features have been added. The two new worlds of the Royal Islands and The Outlands contain new biomes (swamps, steppes and mountains), with unique looks and different setups. To stay competitive in these new environments, players can now get their hands on the newly added Artifact Items (weapons, armor sets and off-hands). But when they do, they better be smart about their actions and decisions, as the also new Reputation and Crime system will keep track of who acts honorably and who fights dirty. Which is more than just a stat: a player's reputation has a significant effect on the way the game world reacts to them.
With its wealth of new features the Final Beta offers huge new areas to discover and many new possibilities for the players to shape the world of Albion Online with their deeds.
Next Article
Version 2.3 for League of Angels - Fire Raiders is now upon us and with it comes Relics, new characters, and more!
by MissyS
KoramGame has released new information and rewards for players of its fantasy MMORPG, Spirit Tales.
by MissyS
I would like to start by saying that I like the idea for Epigenesis. I was never a big Halo fan, but it really felt like Griffball, suspended ...
by DizzyPW