Albion Online Announces Killboard Feature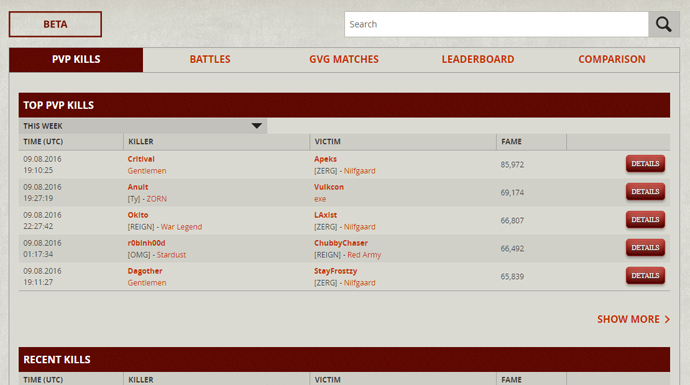 As the final beta pushes on for Albion Online, the competitive spirit flame is set to be fanned by an amazing new feature. The Killboard is the ultimate PvP tracking and bragging tool, offering five tabs of detailed information on everything from who killed who, to how massive guild battles go down!
With a slight delay in the live update and without giving the actual location of a kill, it will be impossible to abuse the Killboard as a tracking device for hunting other players. It will, however, be the one-stop solution for all questions competitive players care about. The stats for the current and past week, as well as the current and past month, include information on kill fame, duration and participants in a battle, the gear used by both the killer and their victim, and more. While the board always shows the latest kills and battles, the search bar makes sure that players can find exactly the information they are looking for. And for those taking extra pride in their stats, there is the option to share their victories (or losses) from the Killboard on Twitter, Facebook, Google+ and Reddit.
Check out the blog post for full details on all the information coming with the Killboard!
BANDAI NAMCO Games Europe S.A.S announced today that RIDGE RACER DRIFTOPIA's open beta will be finished in 60 days. The leading developer an...
by Mikedot
The newest expansion will see players stand ground with Drizzt Do'Urden, as he battles the dreaded Demogorgon in a 10-player encounter.
by MissyS
Publisher Trion Worlds and developer XLGAMES have concluded the second Closed Beta Event for its long-awaited MMORPG adventure ArcheAge to gre...
by Mikedot