4Story M: Flying Dragon Arrows Official Launch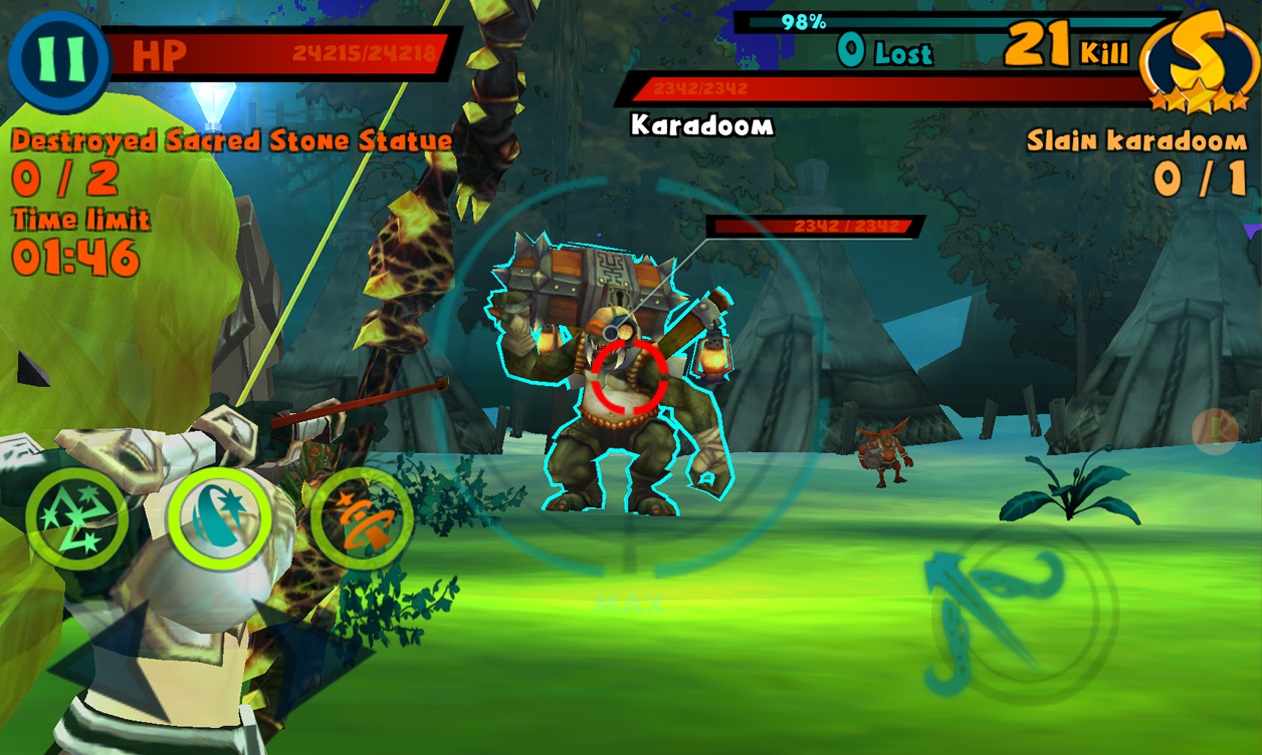 Zemi Interactive, Inc., Korea's leading MMORPG developer and service provider of a famous free to play MMO "4Story" and "Travia2" has announced today that it will launch its first ever mobile game called 4Story M: Flying Dragon Arrows.
After years confined to MMORPG pc games, Zemi interactive is finally launching the mobile version of its games. Flying Dragon Arrows, as you can see in the sub title, it will be focusing on both the flying arrows and the dragon riding actions.
The motto of 4STORY M: FLYING DRAGON ARROWS was based on the old Cabal Shooter style action game called Blood Bros. The game tries to convey the old school game into modern 3D action archer game. This is why you have the dodge function in the game. The players will need to jump from left to right while shooting down the players' opponents. Sometimes the players may have to focus their shooting powers on the Boss Monsters only while avoiding the minions or they won't have enough time to complete the game.
Upgrade up to +7 using in-game money only, upgrade till the top using Odin, our premium currency. For each chapter, you will need a whole set of gears to upgrade starting from scratch. Of course, your item will have greater powers compared to the last chapter's item. But so will the dominions and boss monsters.
There will also be some costumes for the players to customize and Dragons to hatch starting at level 3. Once the dragon hatches, click on the PvP button and ride on your dragon to combat the opponents on a one on one aerial combat. The players will have three turns each to shoot down the continuously moving opponents. After your 3 turns, it will be the players' turn to avoid the flying arrows.
4STORY M: FLYING DRAGON ARROWS FEATURES:
DRAGON RIDERS
The sky is the limit
Reach level 3 and get your own dragon
It's time you take your dragon out from your dungeon and into the sky for a magnificent aerial combat between Dragon Riders
Take three turns each and shoot down your opponent
RUSH YOUR HERO INTO EXTRA MISSIONS FROM THE DARK AND DIFFICULT
In between mission will give you extra missions.
These missions will give you extra loots and items to prepare you for the next stage.
LOTTERY!
At the end of each mission, there will be lottery chances.
With 6 chances, you will get the chance to earn yourself some good equipment, game money or arrows (ticket to enter the game).
ACHIEVEMENT SYSTEMS
Rush your hero through the daily quest or achievement system to gain valuable Odins.
Odin is a premium currency for you to use to power up your Hero.
DODGE GAME!
Dodge the flying arrows. Hone your dodging skills. It's not Dodge Ball! * It's Dodge Game!
Use your skills while dodging your enemies!
INNOVATIVE SKILL-AIMING CONTROLS
Pull, hold and shoot! Just like a real arrow, feel the pulling sensation with innovative skill-aiming controls.
UPGRADE YOUR GEARS FOR MAXIMUM DAMAGE
Tune your long bow!
Something to collect and grow to the finest value.
HEAVENLY HEROES OF FLYING DRAGON ARROWS DETOUR
Travel around the virtual world of 4STORY M: FLYING DRAGON ARROWS and feel the magnificence in various stages.
SPECIAL JUST FOR YOU
Complete your style via specially manufactured costumes.
4STORY M: FLYING DRAGON ARROWS brings role playing games, long bow action style hunt and real time Dragon War strategy PvP together in intense defense style battles. 4STORY M: FLYING DRAGON ARROWS is free to download; get it today and rush into battle!
Next Article
The Heroes of the Storm Summer Championship in Sweden has concluded, and the 2016 Summer champions have been declared: Tempest.
by MissyS
She's beefy, throws around some pretty intense damage, and in general is a detriment to anyone in a teamfight, as she summons even more tent...
by Ragachak