10 Reasons Why You Should Play Heavy Metal Machines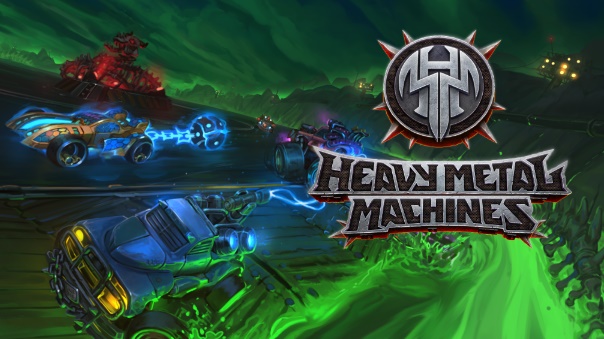 In the crowded MOBA genre, the vehicle combat game Heavy Metal Machines has managed to find it's an enthusiastic fanbase. The game grips newcomers with its adrenaline-fueled action – as they battle for a bomb using unique vehicular controls – and keeps veterans engaged with constant updates with more content and features.
If that's not enough, we offer below 10 reasons why you should try Heavy Metal Machines:
1 – It's unique! – The game proves that not every MOBA needs to have towers, minions and a fantasy setting. How about post-apocalyptic tuned up vehicles battling it out for a change? There really isn't any other game like Heavy Metal Machines out there.
2 – It rocks! – Quite literally, it rocks! Featuring a badass rock and roll setting and soundtrack, Heavy Metal Machines brings a much-needed adrenaline-fueled action and badass attitude to the genre.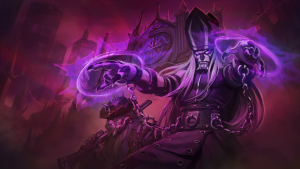 3 – It's epically narrated! – Heavy Metal Machines features Larry Huffman, known in the gaming world as the legendary narrator of Rock 'n Roll Racing fame, as well as an internationally renowned narrator of real-life racing and sports events.
4 – It's insane! – The game features 15 playable characters with unique backstories, with a 16th on the way on the next Season: Bellic Storm. Play as a crazy girl in search of revenge, a fanatic bishop, a pirate leader from the wasteland, a mad scientist and, of course, an insane killer clown!
5 – It's post-apocalyptic! – Visit the world that emerged from the ashes for the glory of the Metal God in three hellish arenas: Temple of Sacrifice, Metal God Arena, and the Cursed Necropolis.
6 – It's… friendly? – Friendship can emerge even in the post-apocalyptic wastes, as Heavy Metal Machines is proud to boast a friendly community that welcomes newcomers with open arms. The developers also like to keep close contact with the fanbase and are always listening to feedback from the community.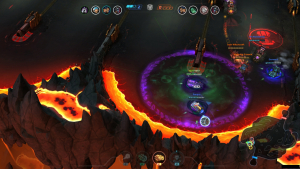 7 – It's competition! – Making friends is all well and good, but sometimes it's more fun to just explode them with a rocket launcher. The game has a strong eSports scene with championships. Like the Metal League, an open seasonal championship with a € 5.000 total cash pool.
8 – It's global! – Heavy Metal Machines is a truly global title, available in 73 countries and in 6 different languages, with local customer support, local players and events.
9 – It's free! – Heavy Metal Machines is a free-to-play game, so you can start your engines and race into the wasteland without spending anything. Awesome cosmetic items, effects, and the Metal Pass progression system are also available for players looking for even more rewards.
10 – It's ALIVE! – The destroyed world of Heavy Metal Machines is ever changing, with different seasons that have brought a frozen wasteland (Road to Malmheim), conjured Lovecraftian horrors from the deep (Into the Abyss) and even let loose religious zealotry (Sect of Metal). The next Season, Bellic Storm, is coming soon.
From the Brazilian studio Hoplon, Heavy Metal Machines features dedicated North American servers and is available for free both on Steam and as a downloadable game client. More information about Heavy Metal Machines can be found on the official website. Follow the game on Facebook, Instagram and on Twitter.
OGPlanet has revealed the Demigod Teaser Page for La Tale, giving a glimpse of the next class coming to the MMORPG.
by MissyS
R2Games has announced that Crystal Saga II, its sequel to its hit 2011 MMORPG, is entering Open Alpha on August 5, 10am EST.
by MissyS