We're partnered with Webzen to help celebrate summer with their Summer Coupon Giveaway on Webzen.com.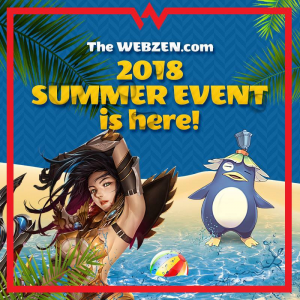 Rappelz:
Plunge yourself into the world of the dark-fantasy MMORPG Rappelz! Thousands of monsters, hundreds of skill combinations, guild-owned dungeons and the world's most intense pet system await! Play now and experience some truly old-school gaming!
MU Online:
MU Online is a compelling fantasy RPG set in the legendary continent of MU. It has been declared one of the best classic 3D MMORPGs on the market. Join the adventure!
Flyff:
FlyFF (Fly For Fun) is an anime-style MMORPG that will take you on delightful adventures in the world of Madrigal. Grow your wings and soar to the skies!
C9:
Explore Continent of the Ninth Seal (C9) and stand against the forces of evil! Master your skills and fight! C9 showcases impressive graphics, strategic combat, a battle zone system and a story-driven quest system.
MU Legend:
Highly anticipated successor to longstanding MMO phenomenon MU Online. Experience fluid and stunning hack 'n' slash combat, content that caters to both solo and party play, and a deep and intriguing world that will satisfy new players and fans alike. Take arms and join the fight!
---
This coupon includes:
MU Online: 
Sapphire Necklace (7 Days)
Sapphire Ring (7 Days)
MU Legend:
Vacation Swimsuit YELLOW chest (7 Days)
C9:
Media Promotion Cash Chest
Resurrection Count Reset Scroll
Skill Reset Scroll
Inventory Expansion Scroll
Warehouse Expansion Scroll
Glenheim Defender Soul Chest (7 days)
War Finisher Soul Chest (7 days)
Flyff:
Re-Skill (Event)
Re-stat (Event)
Gray Tuxedo (M) Box (7 days)
Pink Dress (F) Box (7 days)
Kitty (7 Days Event)
Pink Balloon (6 Hours)
Blue Balloon (6 Hours)
Yellow Balloon (6 Hours)
(Event)Syila Bike Box (7 days)
Upcut Stone (Event)
Refresher Hold (Event)
Vital Drink X (Event)
Grilled Eel (Event)
Rappelz:
Hidden Village Pass (7 days)
Traveler's Tent
Red Lydian
Ancient Horseshoe
Stamina Saver
Animal Cracker
Impact Amplifier (1 Hour)
Mirror Amplifier (1 Hour)
How to redeem your code:
1. Go to http://www.webzen.com/Coupon.
2. Log in with your account.
3. Select your server and character and enter the coupon code (without hyphens).
4. Click "redeem coupon code".
If you are new to WEBZEN, please see the following:
1. Create a webzen.com account.
2. Go to http://www.webzen.com/ to download your game client and install it.
3. Choose a server.
4. Create a new character.
Note:
* Redeemable until: make sure to use the coupon before the expiration date
* Coupon codes can only be used with an existing WEBZEN account
* Coupon codes are limited to one use per account unless stated otherwise
Giveaway is no longer active.