Star Trek Online is now available on PlayStation®4! To celebrate, we're teaming up with Perfect World Entertainment and Cryptic Studios to give away free Faction Packs for Star Trek Online on PS4.

You can find out more about this new edition in our STO PS4 review: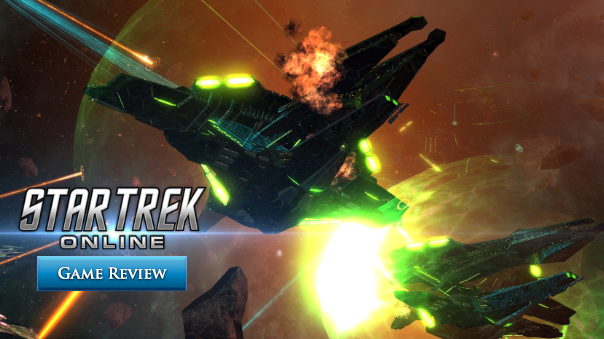 Star Trek Online
is a free-to-play massively multiplayer online game where players can pioneer their own destiny as Captain of a Federation starship, become a Klingon Warrior and champion the Empire through the far reaches of the galaxy, or rebuild the Romulan legacy as the commander of a Romulan Republic Warbird. In
Star Trek Online,
players have the opportunity to visit iconic locations from the popular
Star Trek
universe, reach out to unexplored star systems and make contact with new alien species.
Star Trek Online
is currently available on PC, PlayStation®4 and Xbox One.
Each winner will get ALL THREE of these faction packs:
Starfleet Pack (Federation) Content:
Delta Flyer and Pet!
NX-class Explorer
Rhode Island-class Science Vessel
Excelsior-class Cruiser
Sao Paulo-class Escort
Valiant-class Escort
Jupiter Uniform
7 of 9 Uniform
Liberated Borg Human Bridge Officer
Sehlet Cub Pet
Unique Character Titles
Legacy Pack (Romulan) Content:
Scorpion Fighter and Pet!
T'varo-class Light Warbird
Dhael-class Warbird
Valdore-class Warbird
D'ridthau-class Warbird
Malem-class Light Warbird
TOS Uniforms
Nemesis Uniforms
Liberated Borg Reman Bridge Officer
Sehlet Cub Pet
Unique Character Titles
Empire Pack (KDF) Content:
To'Duj Fighter and Pet!
B'rolth-class Bird of Prey
Qaw'Dun-class Bird of Prey
Koro't'inga-class Battlecruiser
Puyjaq-class Raptor
Negh'Tev-class Battlecruiser
Academy Uniforms
Mercenary Costumes
Liberated Borg Klingon Bridge Officer
Sehlet Cub Pet
Unique Character Titles
Each of these packs are faction-specific. You must create a Federation character to redeem the Starfleet Pack, Romulan character to redeem the Legacy Pack and KDF character to redeem the Empire Pack.
*Codes expire within the year and are consumed upon redemption.
*Please note that these codes are only available to PS4 players in North America.
---
To Enter the Giveaway:
Visit our giveaway thread and tell us what your favorite Star Trek Series is!
The first 50 valid entries will receive a code for all three faction packs listed above.
Winners will be awarded their code(s) via a forum private message.
---
Redemption Instructions*:
Open a Sony Network Entertainment account on PSN (or use your existing Sony Entertainment Network account).
Select the PlayStation®Store icon on the PS4™ system home screen.
On PlayStation®Store, select 'Redeem Codes' at the bottom of the menu.
Enter the code.
Once the code has been entered correctly, select 'Continue' on the dialog box.
Select 'Continue' to complete code redemption.
Launch Star Trek Online and visit the C-Store in-game.
Rewards can be found on the tabs marked "Promotions."
---
Note: Unfortunately ad blockers are breaking functionality of our site. if you experience any issues, please disable them.
Giveaway is no longer active.