We've partnered with Nexon to give away Starter Packs for First Assault, a free to play shooter set in the universe of Ghost in the Shell Online: Stand Alone Complex! You can find out much more about the game in our latest interview: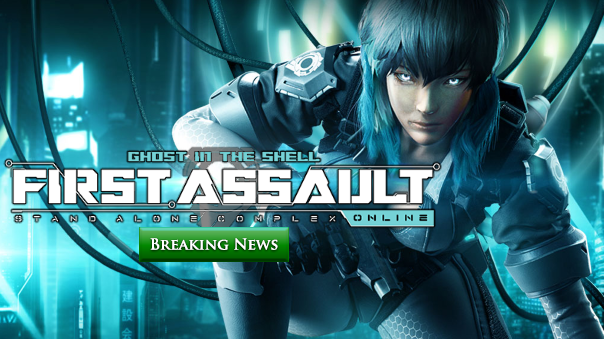 Licensed by Nexon from Kodansha Ltd. and Production I.G, Inc., First Assault is based on Shirow Masamune's acclaimed manga the Ghost in the Shell, one of the core originators of the Cyberpunk genre. First Assault references the anime source material while advancing the dark near-future universe and bringing it to a frenetic but tactical first-person shooter game environment. As an elite, augmented soldier, players will advance and master their character with upgrades and unlocks as they succeed in combat. Each character has exclusive attributes that reflect features of the original franchise, such as Motoko Kusanagi's 'Therm-optic Camouflage' cloaking technology or Saito's ability to enhance his vision and highlight enemy soldiers.
Now in free-to-play open beta, players will carry out battle strategies and formations as they choose from among the cast of original GiTS characters and a couple that are exclusive to the game. Adding a unique layer to the experience, each of these can be customized with specialized body augmentations, weapon attachments and enhanced abilities. First Assault also features "SkillSync," which allows players to leverage shared cyber-abilities with nearby teammates in combat modes to augment and increase their skills. By using SkillSync in smart and tactical ways, teammates can work together in devastating combinations in battle.
The Starter Pack includes:
2 Bonus character unlock coupons
500,000 GP
10x 100% GP Booster
10x 100% XP Booster
200 minute chipset pack
Rapid Reload x3
Rapid Swap x3
Rapid Aim x3
Agile Reload x3
Agile Strafe x3
Agile Step x3
Note: This key can only be used in supported regions for First Assault!
To Enter:
Visit the official entry thread in our forums (a registered account is required to post) and tell us who your favorite GITS: Stand Alone Complex character is!
On Friday, October 7, 10 winners will be drawn at random from valid entries in the thread. Starter Pack codes will be PM'd through the forums.
Remember, this giveaway is only valid in supported First Assault regions.
Winners can redeem their keys through Steam.
Best of luck!
Giveaway is no longer active.