We've partnered with Neowiz to offer a special sweepstakes for Bless Online to celebrate the arrival of the Ruins of Shaqqara update!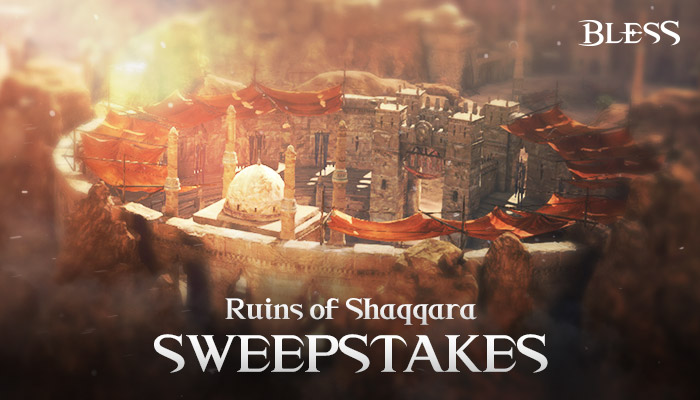 Live your own adventure in the breathtaking world of Bless Online! Fight for your faction in RvR battles and field PvP, explore treacherous dungeons with your friends, tame fantastic monsters, and become a legend.
Read more about this in our exclusive interview!
---
This Sweepstakes is offering a total of 40 prizes:
10 x Legendary Warlord Pack which includes exclusive skins, Lumena, 60 Days Premium Subscription, & More
10 x Warlord Pack which contains which includes exclusive skins, Lumena, 30 Days Premium Subscription, & More
20 x Novice Pack which includes 30 Days Premium Subscription and more
These prizes will be awarded as a Steam Code which can be redeemed on the Steam platform.
To Enter the Sweepstakes:

Visit the official entry thread. If you don't have one, you will need to sign up for a forum account to enter. We cannot contact you if you post as a guest.
Post a reply to the thread telling us how long you've been playing Bless Online.
Our lucky winners will be announced on Friday, November 16. The prize code will be sent via forum private message.
Please see official rules and conditions below.
Rules and Conditions:
The sweepstakes will take place between Wednesday, November 7, 2018 and Friday, November 16, 2018 (12pm/noon Pacific).
No purchase necessary.
One (1) entry per eligible person will be accepted through a post made in the OnRPG/MMOHuts forum in the appropriate forum thread.
Winners will be selected by random chance from the list of valid entrants using random.org.
Winner will be posted in the forum thread, as well as contacted via forum private message (PM).
This sweepstake's prize is provided by Bless Online.
Giveaway is no longer active.