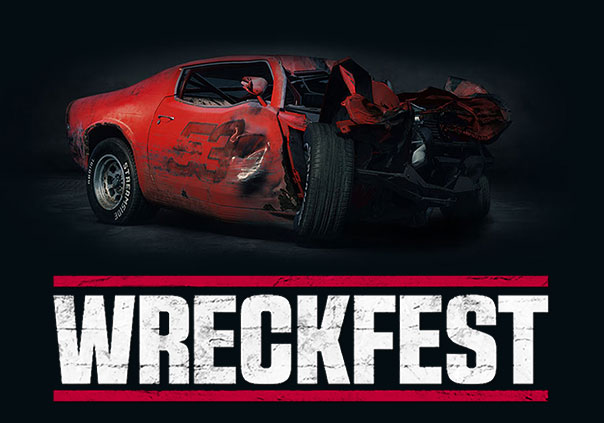 Wreckfest is an upcoming racing demolition derby game developed by Bugbear Entertainment for PC, Xbox One, and PS4 and is available for purchase on Steam Early Access. In Wreckfest players that love over-the-top, reckless racing action as well as serious vehicle upgrading can finally find a home.
Wreckfest is a game with attitude that's about having fun. Various tracks, different terrains, awesome cars, and true-to-life physics simulations will provide you with breathtaking, extreme moments at every turn. As you race around and deal damage to your opponents, and possibly yourself, you'll take damage in the most accurate of ways. Your care will sustain damage which will accurately affect how it handles, meaning that the ante has been upped and you'll need to be careful that you don't get put out of any races or derbies too early.
The cars you can choose from in Wreckfest are old, battered, and full of style unlike any other racing game. Climb into the driver's seat of your favorite American muscle cars, small European cars, or agile Asian cars from decades past. Break them down, then build them back up in your garage with parts you picked up in the classifieds. Build your dream derby car with every bell and whistle that can withstand intense punishment, or build a car on a budget that you just want to get out there and cause some chaos in. Either way Wreckfest has some sort of vehicle build for you to try out!
Wreckfest has arrived to deliver a high-octane, derby-like, racing experience like none other in existence. With a powerful in-house game engine and the ability to render dynamic visual car damage Wreckfest will put you in the driver's seat of your favorite vehicle and give you the chance to ruthlessly bash it up!
Status: Pre-Release
Business Model: Retail
Developer: Bugbear Entertainment
Publisher: THQ Nordic
Category:

Stand-alone

Genre(s):

3D, Sports, Simulation

Platforms:

PC, Steam, Xbox One, PS4



Recommended System Requirements:

OS: Windows 7/8/10
CPU: Intel Core i5 or AMD Phenom II X4
RAM: 8 GB
GPU: NVIDIA GeForce GTX 570 or AMD Radeon HD 7750
HDD: 4 GB



Description: Wreckfest is an upcoming racing demolition derby game where players can drive cars from decades past. Whether you want to race against opponents, bash cars up, or do a little of both Wreckfest has the game mode for you!
Bethesda Softworks® today announced that The Elder Scrolls® Online is in development for both the PlayStation®4 computer entertainment syst...
by MissyS
Nexon's fantasy MMO Mabinogi keeps delivering the drama with The Saga: Iria.
by MissyS
Hirez Studios has just revealed plans for SMITE Season 4 in a massive 3 hour livestream!
by DizzyPW