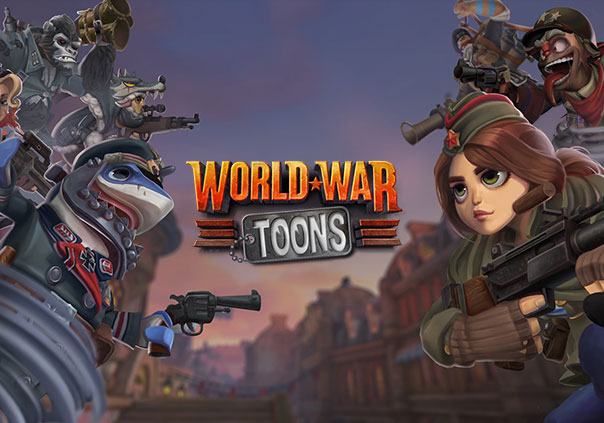 World War Toons is a free-to-play cartoonish first-person shooter developed by Reload Studios for Playstation 4 and PSVR. In World War Toons players won't know what to expect around every corner, whether it be a rocket rushing straight towards them, pianos falling from the sky, or a tank barrel staring you straight in the face. The objective of the game is to eliminate your opponents by any means necessary, and being that World War Toons is cartoony in nature they truly give you every and any possible mean.
World War Toons gives players the chance to play as one of 16 different Troopers, each of which is very distinct from the others and is affiliated with either the Axis or the Allies. Everything from snipers and madmen to yetis and gorillas can be chosen as your playable character, so you won't be at a loss for a crazy variety of choices. However, each Trooper choice does have its own general class that it abides by: Officer, Soldier, Sniper, or Heavy. Officers use their pistol skills to blast enemy players down, Soldiers use assault weaponry, Snipers use their accuracy to pick off opponents from a distance, and Heavy Troopers use huge weapons that often cause explosions.
The maps that you play on in World War Toons will dictate the type of game that you play. Moulah Ruse is a French city where Allies and Axis players alike will fight in a high-intensity free-for-all match. Sacre Blue is another French village controlled by the Allies, but they Axis are coming to take it from them in a Team Deathmatch. Pyramid Scheme is a secret outpost in North Africa where the Axis are trying to acquire the power of a deity, but they'll have to deal with the Allies trying to take it for their own as well in a game of Capture the Flag. Dread Zeppelin is a map where players can battle on the flying ship that is the Axis' pride and joy. The Allies are trying to stop the ship and seize it for themselves in this game of King of the Hill.
Are you ready to join this wacky fight, or will it be just too insane for you?
Status: Released
Release Date: Oct 13, 2016
Business Model: Free to Play
Developer: Reload Studios
Publisher: Reload Studios
Category:

Stand-alone

Genre(s):

3D, Shooter, Virtual Worlds

Platforms:

PS4


Pros:

+Simple, easy VR controls.
+Great, engaging VR experience.
+Class roles matter.

Cons:

-Many reports of VR sickness.
-Game style lacks universal appeal.



Recommended System Requirements:


Description: World War Toons is a free-to-play cartoonish first-person shooter where players can play as a Trooper on the side of the Allies or Axis powers. Everything from pistols and rocket launchers to tanks and pianos falling from the sky can be expected from this wacky title!
The nature of social media is also changing with League of Legends! Clubs and party features are well on the way, not now but in the future.
by Ragachak
Accept no imitations. Many games have had "Bruce Lee" characters, from League of Legends to Tekken. But Heroes Evolved has the real ...
by Ragachak
Revenues for The Lord of the Rings Online have doubled since the formerly subscription based MMORPG went free to play.
by Guest