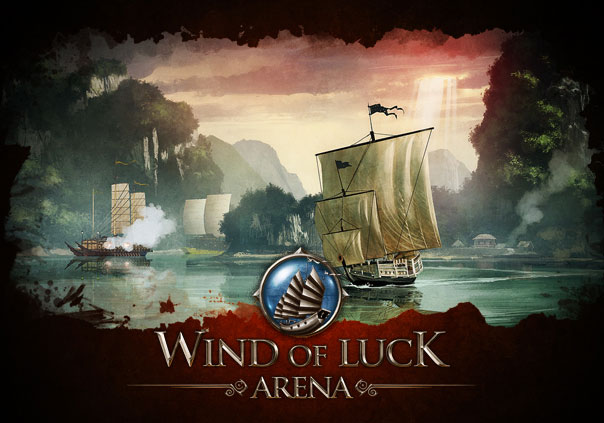 Wind of Luck is an MMORPG that allows you to become a pirate. You start with a small ship and a tiny crew, and work your way up towards becoming a mighty baron. There are three factions in Wind of Luck, and each faction is at war with the other two. This paves the way for some exciting, multirealm PvP. The game boasts over 90 different ship types, and dozens of weapons, like cannons, harpoons, and catapults. The economy in the game reacts to players, so what you purchase and sell, and who and where you offload your cargo to will have an impact on the global scale.

Wind of Luck – massive multiplayer online game, in which the action takes place in the golden age of piracy in XVI-XVIII centuries, when the open sea piracy flourished, rum was neat, and the adventurer's life – a short one

Open beta at the starboard bow! The team at Trazzy Entertainment are proud to announce that new MMO, Wind of Luck: Arena, is now available in open beta. Take part in giant naval battles on the high seas in an exciting multiplayer session-based online experience. There's a huge variety of weapons and historically accurate ships available, so get involved today! Two teams of ten each will blast each other across the seas with a variety of weapons attached to beta signups are now available!

The game is centered on the naval battle – dynamic, decisive and devastating constant action, where skillful captain can sink much bigger ships, using a wide variety of different tricks and unusual actions. There are many different types of war vessels, which can be equipped by a number of various weapons, such as long cannons, carronades, mitrailleuses, harpoons, even ballistae and catapults. Each and every ship has its strong points and vulnerabilities, and even the small schooner can achieve victory against a heavy frigate.​

From tiny fragile boats with 2-4 small cannons to massive four-deckers and legendary colossal Chinese Junks – the range of available ships is truly wide. The same can be said about armament – they range from 4-pounder Minions to massive Quebrantamuro cannons. A number of uncommon custom options available for players too – including catapults, mitrailleuses, harpoon cannons, barrels with oil and gunpowder, fireboats, mortars, smoke…​

Features:

Naval Fights! – Dynamic, decisive and devastating constant action, where skillful captain can sink much bigger ships, using a wide variety of different tricks and unusual actions.

Team Vs Team Battles – 2 random teams of 10 players each compete in a battle location for a sunken treasure.Battle locations vary from the Caribbean Sea to the Isles of Sunda, and each location is carefully designed for allowing different gameplay tactics and themed to reflect some famous legend or history from the age of sail period.​ Fight against random opponents, train together with your friends, sharpening various combat skills and exploring various locations. Battles will take place in truly special seascapes which offer not only a good spectacle, but also the tactical challenge of a variety of battle conditions.​

Three different Ships to build – Mainstream West European (named "Caribbean" in game), Mediterranean and East Asian.

A sea of customization – Use piasters earned to repair your ship and resupply ammunition, and to improve your performance on the battle by mounting various additional weapons and equipment.​

Upgrade your vessels and unlocking special abilities – Easy and rich system of ship upgrading and development allows possibility to try out virtually all the vehicles and weapons featured in the game.​
Status: Released
Business Model: Free to Play
Developer: Trazzy Entertainment
Publisher: Trazzy Entertainment
Category:

Stand-alone

Genre(s):

3D, MMO, Adventure, Simulation

Platforms:

PC


Pros:

+Huge world to explore.
+Good number of ships and weapons to choose from.
+Three faction PvP.

Cons:

-Similar to other games on the market.



Recommended System Requirements:

OS: Windows Vista / 7 / 8
CPU: Intel Dual Core 3 GHz, or better
RAM: 4 GB
GPU: ATI Radeon 6850 or better
HDD: 3 GB



Description: Wind of Luck allows players to experience a romanticized life of a pirate. Start your career off on a small vessel with only a few guns, and a skeleton crew, and buy, trade, and steal your way to fame and fortune.
In a developer post today, Riot Games confirms that its long-awaited dragon champion, Ao Shin, will be coming to League of Legends - sort of.
by MissyS
The newest expansion for Blizzard's CCG Hearthstone is now live: The Witchwood! 135 new cards come to the game with the new Year of the R...
by Ragachak