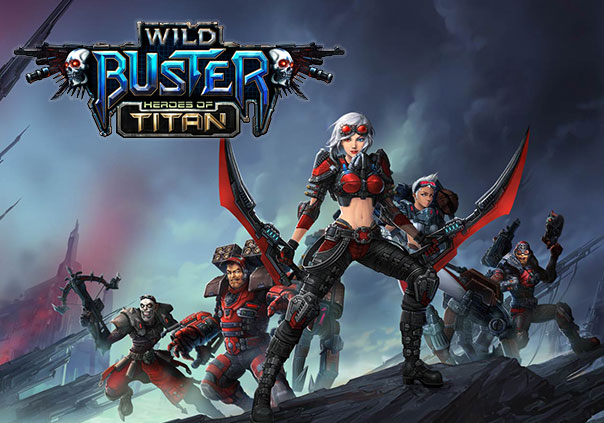 Wild Buster is an upcoming sci-fi action MMORPG developed by Nuri Vista for PC and will be available on Steam Early Access. In Wild Buster players can engage in intense RPG hack-and-slash gameplay and choose between two warring factions of the human race, Guardians and Abandon, and work against their enemies to save the universe.
This militaristic science fiction universe is outfitted with over 20 unique characters that you can play as. Each character is on the side of either the Guardians or Abandon, but both must work together to stop the Brokken, a half-man half-machine race trying to convert what remains of the human race into Brokken. Guardians are a military organization with the mission to protect all humans and the Abandon are an alliance of unbound, wild mutants that are less organized, but adept at surviving in harsh environments. Every character has a unique ability and role to serve a group, whether it be fighting off the enemy up close with swords and shields or blasting at them from afar with guns and missiles.
If you find that you just can't think about defeating the Brokken without first settling the score with your opposing faction or even your allies then you can take part in different PvP matches. Battle in squad leagues of 5v5 and 10v10, fight in 4 different open PvP zones, or go to the free-for-all treasure brawl where the winner takes all the spoils! Make sure you don't forget about the Brokken threat, but make sure to make time to prove your worth to Guardians and Abandon alike as well!
A war of desperation has broke out in the world, resulting in a gritty, science fiction mess. Team up with the opposing faction to protect humanity from the Brokken, but try not to let your differences get in the way in Wild Buster!
Status: Released
Release Date: Dec 14, 2017
Business Model: Retail
Developer: Nuri Vista
Publisher: Nuri Vista
Category:

Stand-alone

Genre(s):

3D, MMO, RPG, Sci-Fi

Platforms:

PC, Steam


Editor's Score: 3.5/5


Recommended System Requirements:

OS: Windows 7 (64-bit) or higher.
CPU: Intel i5 or equivalent
RAM: 8 GB
GPU: Geforce GTX 750 or equivalent
HDD: 10 GB



Description: Wild Buster is a sci-fi action MMORPG where players can fight with the Guardians or Abandon to protect humanity. Will you be able to put aside your differences to work with the opposing faction, or will you both fall fighting each other amidst the Brokken invasion?
Gameforge and HEX Entertainment are expanding the beta of the digital TCG HEX: Shards of Fate with the first single-player content. The Frost ...
by Mikedot
Allods Online removing "Fear of Death" debuff with the launch of the Revelations of Gipat expansion pack. The most controversial ite...
by Guest