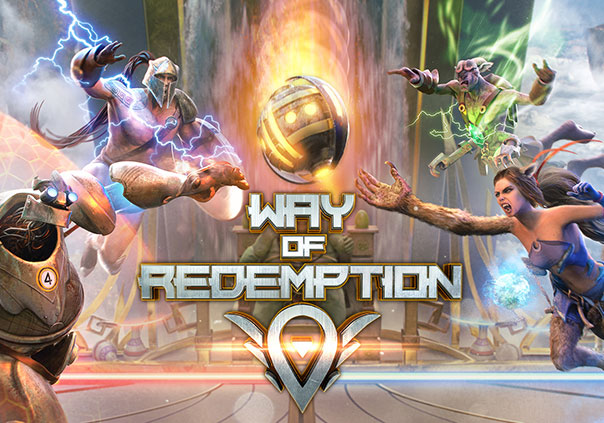 Way of Redemption is a 3D MOSA (multiplayer online sports arena) game developed by Pixel Cream that can be purchased for PS4 and on Steam for PC. For hundreds of years the Gods have organized a tournament in which the winners' redemption was granted. Heroes fallen in disgrace must honor the Gods by competing to show them their true value. Redemption can't be given to just anyone after all! Legendary ambassadors will clash in multiple challenges across different arenas, fighting one to one or in groups of two against other alliances. It's their chance to show their talent and unique skills.
In this sport, pantheons compete while Gods enjoy the show. But this is more than a game: it's one of the most epic competitions ever, where their honor and most treasured belongings are at stake. Players will select from a variety of awesome heroes to take to the battlefield and show their skills on the field by throwing a ball through their opponents goal to defeat them. Take your hero's skills to the next level by making combos out of your different actions like blocking, jumping, running, and shooting. Just make sure you don't forget to defend your portal as well!
Don't think you'll be stuck looking like every other combatant either. You can unlock content as you play to customize your hero in a multitude of ways. Mix and match your hero's outfit, choosing from over 11,000 possible hero combinations.
If you're a fan of frantic, frenzied gameplay with a competitive flavor then you'll feel right at home in Way of Redemption. Put your passion for sports and games to the test and show your foes what you're made of, but remember the Gods are watching!
Status: Released
Release Date: Nov 07, 2017
Business Model: Retail
Developer: Pixel Cream
Publisher: Pixel Cream
Category: Stand-alone
Genre(s): 3D, MOBA, Sports
Platforms: PC, Steam, PS4

Pros:

+Intense, engaging gameplay
+Basic and sensible controls
+Good time killer

Cons:

-Achievement tracking issues
-Minimal gameplay variations



Recommended System Requirements:

OS: Windows 7/8.1/10
CPU: Intel Core i5-4690K @ 3.50GHz
RAM: 8 GB
GPU: NVIDIA® GeForce® GTX 960
HDD: 2 GB