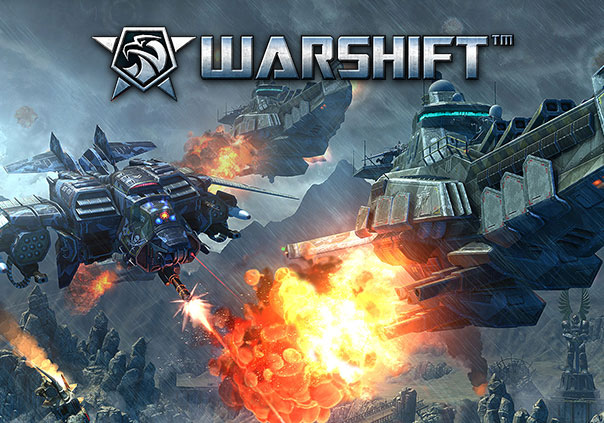 Warshift is a buy-to-play Sci-fi RTS developed by Cyril Megem for PC and is available for purchase on Steam. Warshift has everything an RTS could ask for and more with base building, troop management, and even your own involvement on the front lines of battle.
It is 2062 and the colonial planet Enigma was invaded by an alien race called the Atroids. They are from a parallel world and want nothing more than to claim Enigma for their own with their alien droids that have been perfectly engineered to be able to fight in any temperature in any kind of environment. The human race suffered heavy casualties and after a series of antiwar protests they went about developing new ways to combat the alien race with new technology as opposed to actual human lives. You must command the forces of the Colonial Republic against this foreign race and use your newly developed cyber-units to your advantage.  Cyber-guards, heavy machinery and robotic drones-transformers are just a few of the types of units that will be at your disposal. However, if you feel like your time would be better served down on the front lines then you can jump into battle yourself, operating combat avatars (robotic combat vehicles) on your own. Don't worry though, if your combat avatar takes critical damage it can be evacuated for repair and sent back to the battlefield once it is ready to go once again.
Play Warshift and get involved in an exciting RTS that offers various systems for you to conduct tactical battles with, but don't forget to get down in the action yourself and fight one-on-one with your enemy when you can. Only the most stalwart, well-rounded commanders will be able to lead the human race to salvation.
Status: Pre-Release
Release Date: Oct 12, 2016
Business Model: Retail
Developer: Cyril Megem
Publisher: Nominia Ltd
Category:

Stand-alone

Genre(s):

3D, RPG, Sci-Fi, Shooter, Strategy

Platforms:

PC, Steam


Pros:

+Amazing community and dedicated developer.
+Unique concepts and systems.
+Ability to get into the action with your Commander.

Cons:

-Cluttered UI.
-Lacks hotkeys.
-Confusing control scheme.



Recommended System Requirements:

OS: Windows 7 or higher
CPU: Intel Core i7
RAM: 8 GB
GPU: Nvidia Geforce GTX 780
HDD: 8 GB



Description: Warshift is a buy-to-play Sci-fi RTS where players can command various types of technologically advanced cyber-troops against an alien race, but that's just the beginning of the fun. You can also jump right into the battle with your Commander and take down enemies yourself.
Powerful Princesses fashioned after legendary weapons from Phantom of the Kill are making their way into The Alchemist Code.
by Ragachak
InnoGames just hosted the Kartuga Alpha Challenge, inviting 16 players from six countries to test the game in an exclusive sneak peek.
by MissyS
Awesome new vanity pets and a revamped costume system is coming soon!
by Mikedot