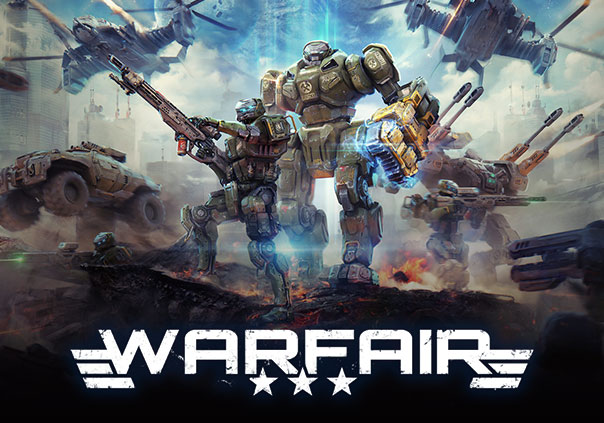 Warfair is a free-to-play mobile sci-fi RTS game developed by Wargaming World Limited for iOS and Android. In Warfair players are thrust into a war-torn near future where all forms of advanced technology and armors are being used to wage war. As a commander you will be able to deploy and lead your units in strategic battles to outsmart your opponents. Your tactical mind will be put to the test in intense 1 versus 1 real-time battles where you'll not only be employing your own strategies, but trying to predict and counter your enemies' plans as well.
As you play you'll be able to unlock different units to add to your squad or upgrade them to increase their strength, opening up new tactical possibilities. The more units you have, the more choice you'll have in building the ultimate squad to take into battle. Devise different strategies for different units so you are ready to take on whatever your opponents might throw at you!
Once in battle you can spawn your units to lead into the fray. Every unit costs a different amount of energy, so you'll need to plan out ahead of time for what you might need to save up versus acting in the now and sending in a full battalion. Units can be directed along an exact path to where you want them to go, giving you the most freedom possible in positioning them. Once the battle is over and the winner has been proclaimed you can take the knowledge of your match and incorporate it into future strategies. You can even watch replays of other players' matches to see how they handled different situations.
The world has been torn apart by war and you're going to need to fight if you want to survive in it. Create an army of advanced units, take them into battles, and create a name for yourself that will strike fear into the hearts of your enemies in Warfair!
Status: Pre-Release
Business Model: Free to Play
Developer: Wargaming World Limited
Publisher: WARGAMING MOBILE PUBLISHING LIMITED
Category: Mobile
Genre(s): 3D, Sci-Fi, Strategy
Platforms: iOS, Android

Pros:

+Well designed.
+A lot of room to expand.

Cons:

-Lacks any campaign.
-Needs more incentives for alliances.
-Have to be in same alliance as friend to battle them.



Recommended System Requirements:

OS: Android 4.4 / iOS 8.0