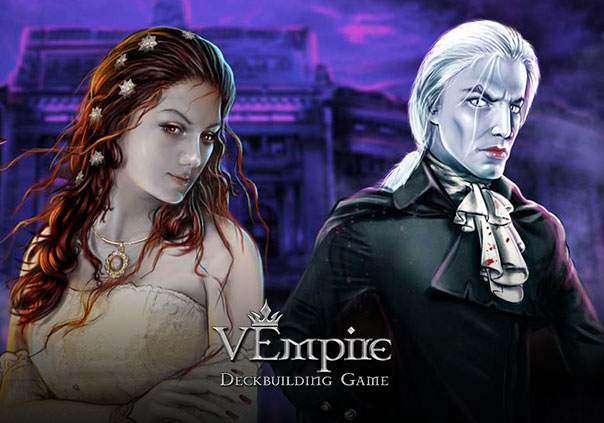 VEmpire is a turn-based card game developed by Wolfgang Leuger that is available for purchase on iOS or on Steam Early Access for PC. In VEmpire one of history's most influential dynasties, the house of Habsburg, has been re-imagined as a house of terrific vampire rulers!
Battles take the form of empire building where different kinds of cards are played to give different effects. Empire cards can be played to acquire new cards for use or to increase your empire points. Attack cards can be played to acquire new cards as well or they can be used to attack your opponent. Power cards can be played to utilize the powers of your chosen kind and faction. Location cards provide you with permanent guldens every turn and can give you more strategic flexibility and control. Spell cards can be used offensively or defensively to better customize your strategies. You can even take advantage of historical Groups (e.g. Pairs like 'Sisi' & 'Franz Joseph'). They are some of the most powerful entities in the game and count twice if they are completed in your Empire! There are over 100 unique cards in total to choose from with entertaining artwork and a faction affiliation. All cards are drawn based on real historical characters, famous ancient buildings and gory battles!
Matches can take place both online and offline in VEmpire. Online friends can invite each other to matches between each other or you can play against server-selected opponents. When playing offline players can fight in AI battles, as well as save and load them for practice with using different strategies.
With strong artwork and a powerful atmosphere, VEmpire brings a unique game-design with fresh mechanics to the table. Destroy your opponents' empires and make sure yours is the one that emerges as the ruler of an era!
Status: Pre-Release
Business Model: Retail
Developer: Wolfgang Lueger
Publisher: Vempire Entertainment
Category:

Stand-alone, Mobile

Genre(s):

2D, Strategy

Platforms:

PC, Mac, Linux, Steam, iOS


Pros:

+Cool theme
+No microtransactions
+Gorgeous cards

Cons:

-Tutorial not comprehensive enough
-Lacks campaign
-Small player base



Recommended System Requirements:

OS: Windows 10
CPU: 2.2GHz Dual Core
RAM: 4 GB
GPU: 1Gb VRAM
HDD: 3 GB



Description: VEmpire is a turn-based card game based on the house of Habsburg, which has been re-imagined as a house of terrific vampire rulers. Use different kinds of cards to build your empire up while attacking your enemies and ensuring their empires crumble.
I grew up loving the WWE franchise. I was already a fan of the then still young Undertaker when he was rising up the WWE (then known as WWF) l...
by Ojogo
Check in on PlanetSide 2's status from anywhere you have your mobile, plus reference handy guides.
by MissyS