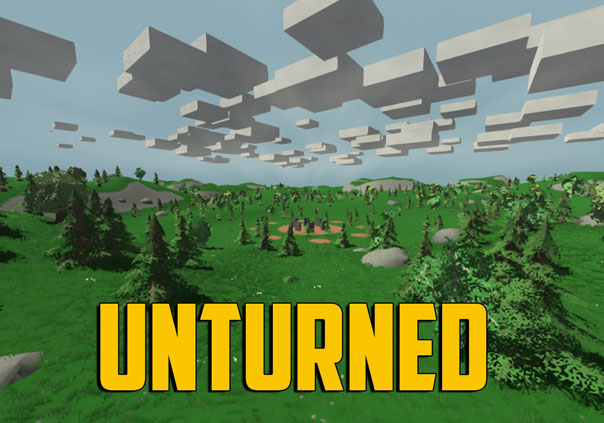 Unturned is a free-to-play blend of sandbox and survival. Players start with nothing, and must scavenge, hunt, build, negotiate, and ultimately survive, on an island where zombies are everywhere. Building components are similiar to Minecraft, and include traps and electronic systems. Players may also choose to play co-op (PvE) or against each other (PvP), with supported systems for clans and banditry.
Features:
Fortification: Players can build massive forts out of structural building blocks, or build onto smaller buildings in the world with barricades. It is also possible to create traps and intricate electronic systems. More options for building are constantly being added based on what the community requests.
Survival: It is entirely possible to live off the wilderness by harvesting trees and rocks, growing crops and hunting animals down. What sort of survival stuff is added is entirely decided by the community.
Explore: The game goes where the community wants it to. The initial release map is set on the lovely Prince Edward Island, but over the next few months many more locations will arrive for players to explore depending on what the community wants to see. Currently the island has plenty of interesting locations to discover and loot.
Bandits: Players can choose to enter player versus player servers and battle other players to steal their gear. Banditry is highly supported with plenty of weapons and sneaky devices.
Heroes: Players can join player versus environment servers to team up with other people, and easily create clans to play with their pals.

Status: Pre-Release
Business Model: Free to Play
Developer: Nelson Sexton
Publisher: Smartly Dressed Games
Category:

Stand-alone

Genre(s):

3D, Shooter, Casual

Platforms:

PC, Mac, Steam


Editor's Score: 4/5

Pros:

+Small download size.
+Co-op and competitive options available.

Cons:

-Still in early access.
-Only one map.



Recommended System Requirements:

OS: Windows XP / Vista / 7 / 8, Mac OSX Leopard or newer.
CPU: Intel 2.0 ghz
RAM: 4GB
HDD: 256MB



Description: Build, scavenge, negotiate, and survive in this Minecraft-style zombie survival game.
It's stomp city here at quarterfinals, population: 4.
by Kings Decree
Today, Gameforge and HEX Entertainment are releasing the second card set – Shattered Destiny – for the digital trading card game HEX: Shar...
by MissyS