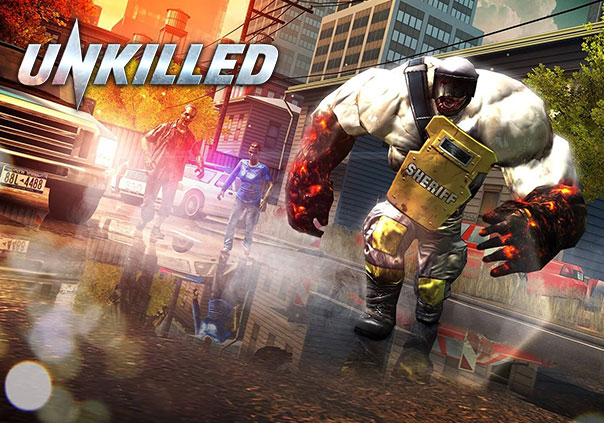 Unkilled is a free-to-play mobile shooter developed by MADFINGER Games for iOS and Android. In Unkilled New York City has wound up becoming one of the most zombie-infested places on the planet. Never has New York City more needed a hero tough enough and valiant enough to tackle the undead head-on in an attempt to figure out what caused the horrendous outbreak in the first place. This is where you come in!
Players can jump into Unkilled's singleplayer campaign as one of five unique characters that are elite members of the zombie task force that were called to New York City to help deal with the undead threat. The group, known as the Wolfpack, has been carefully brought together by the military and specializes in eliminating practically any threat, so it only seems fitting that they get the privilege and joy of the dirty work. You and the other members of the Wolfpack will venture deeper into the city's sewers, streets, subways and just about anywhere else to uncover the nefarious plot behind the outbreak. It's definitely a good thing you're packing a lot of firepower!
In multiplayer you can fight against other players across 5 distinct maps designed for PvP. After choosing your hero you'll be able to fully load them out with customizable skills and the weaponry that you like best! If you do well enough you'll gain some Intel from your efforts and put it to good use in leveling up your hero in a massive skill tree. Ranked leagues and duels can even be joined if you're looking to prove your worth even more, giving you the chance to climb through leaderboards.
Unkilled has a little something for everyone that enjoys mobile shooters, but if you're a lover of slaughtering hordes of zombies then it will certainly shine even brighter for you!
Status: Released
Release Date: Sep 03, 2015
Business Model: Free to Play
Developer: MADFINGER Games
Publisher: MADFINGER Games
Category:

Mobile

Genre(s):

3D, Sci-Fi, Shooter

Platforms:

iOS, Android


Pros:

+Great graphics.
+Anti-cheat tech.
+Hidden weapons.

Cons:

-Large download size.
-Lacks weapon diversity and numbers.
-Graphics can be too demanding for some devices.



Recommended System Requirements:

OS: Android 4.1 / iOS 8.0 or later
HDD: 747 MB



Description: Unkilled is a free-to-play mobile shooter where players can become one of the members of a militaristic group called the Wolfpack who have been called in to gun down hordes of zombies in New York City and uncover the nefarious plot behind the outbreak.
At PAX East 2014, Carbine Studios made a special donation to Child's Play, a game industry charity dedicated to improving the lives of child...
by Mikedot
Global game publisher Reality Squared Games (R2Games) announced today that Cast & Conquer, its mobile action CCG, has been made available ...
by Mikedot